Easter is an incredibly difficult time to find a good deal out of Hong Kong. With huge demand and not enough supply, even budget carriers price like their full service counterparts. I had to turn creative by looking at neighbouring airports where they don't have a similar Easter rush. Shenzhen has fairly limited international connectivity, and after several trips to China in recent months, I wanted something else. Macau came into the picture. While it is a fairly quiet airport compared to Guangzhou, Shenzhen, and Hong Kong on the other side of the river, I was surprised Jeju Air has a few unique frequencies to smaller secondary cities.
Having been to Seoul many times for work, I wanted to explore more off-the-beaten track Korea. Both Daegu and Muan had affordable fares for the Easter break which doesn't require taking additional days off. Muan was the cheapest, at only HKD 1200 all inclusive just days before the long weekend.
Getting to Macau would be difficult. The easiest way is expensive - by ferry, but regular tickets were in short supply due to the long weekend. Upon arrival at the ferry terminal, either grab a cab or the bus to reach the airport. A cheaper alternative is to take the new bridge across, but it would involve multiple transfers and ended up not that much cheaper anymore.
So to reach the airport well ahead of the 12:35am check-in cutoff, and with lines for the bridge's buses unpredictable, I set off at 8:45pm for Sunny Bay, transferring to the bus for the boundary crossing. The B5 bus from Sunny Bay runs a decent schedule at night, but its detour into Disneyland made the otherwise short journey over 20 minutes long. By the time I reached the border crossing island, it was past 10pm.
The bus wasn't anywhere near full and it was a smooth walk through immigration. Then the chaos started. Tour groups from China are now separated into their own line, but it wasn't clear at first whether other passengers would need to line up behind them, and that line stretched beyond my line of sight. That would easily be hours of waiting. Frustrated, I walked up to the attendants who apparently made an opening for me, and other non-tour passengers, to venture into the "rest of them" line.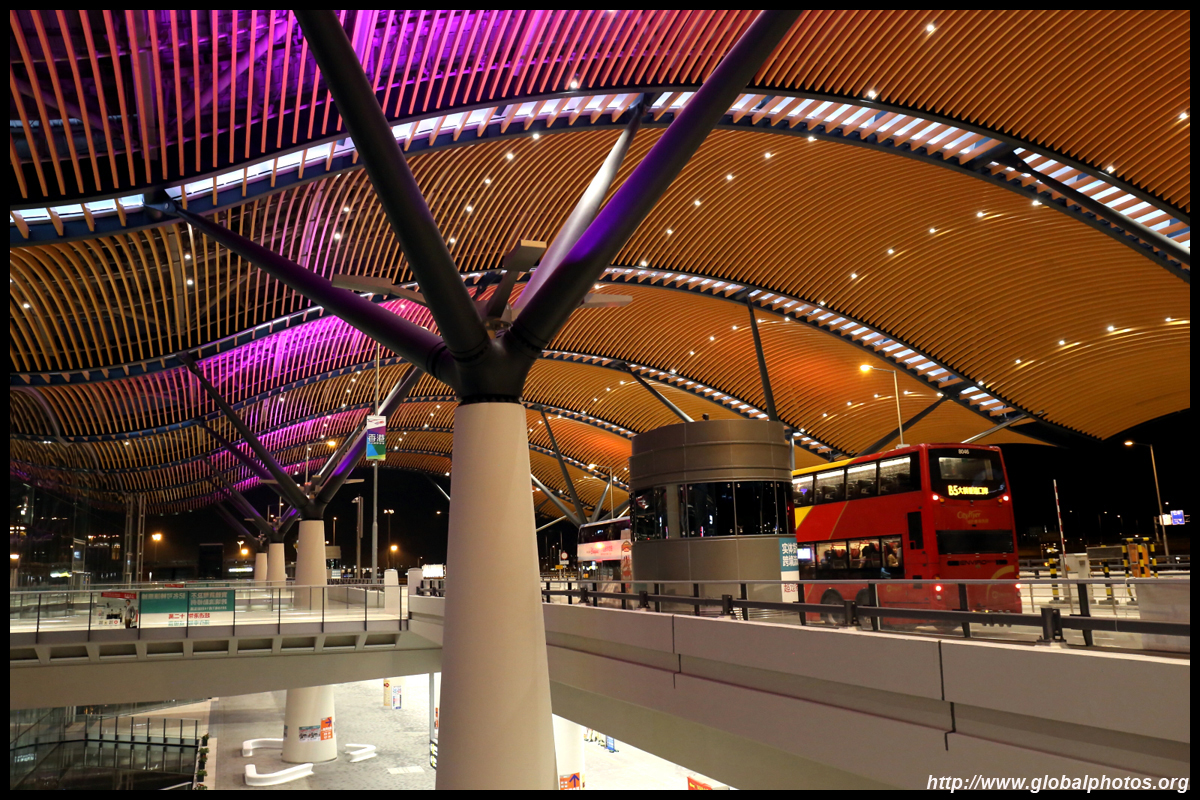 While the tour groups were having a rowdy time pushing and shoving against each other, the "rest of us" quietly lined up in relative peace. Good they didn't mix us together.
Even the "rest of them" line was quite long and the buses trickled in. Luckily, it was only a 20 minute wait and I was off and finally on the way at around 10:20. I would be cutting very close to the last free shuttle bus from the Macau's boundary checkpoint to the ferry terminals for a taxi to the airport.
The bus pulled into the Macau checkpoint just shy of 11, and it was a relatively short line to the automated immigration kiosk. Some of the tour passengers seemed clueless where they were and didn't care people were lined up properly. A curse and a loud and assertive voice would shoo them away. I would care less whether they were really or pretending to be clueless.
By now it was 11:10 and the last free shuttle had left for the day. I didn't see the regular bus at the bus bay either and the Macau side of the bridge remains awfully disconnected with the city. There were plenty of tour buses though. It is still strange that the casino shuttles still haven't made their way here. So the final leg of the journey would be a short but expensive 91 dollar taxi ride. This would almost offset all the savings of not taking the ferry.
It was 11:30 when I reached the airport. With bottleneck risks crystallizing, taking the bridge to catch a flight was a very stressful experience.
Tonight, Jeju Air had 3 flights heading to Korea during the overnight hours. The counters were separated by destination and Daegu had a sizeable crowd. It was still early for Muan so I didn't have to wait in line at all. I was asked if I wanted a window or aisle seat, and they assigned the 2nd row for me. The agent did remark it wasn't a full flight.
Satisfied, I walked around exploring the dark and aging landside area. There wasn't much in terms of food options here, and the fast food joint upstairs was closing by now.
Back downstairs, there were many people sitting on the benches, which seemed a bit odd. I was surprised the airport was a bit crowded tonight. Macau's airport usage figures are miniscule compared to the likes of Shenzhen and Hong Kong across the river.
Despite being a small airport, Macau actually has its own flag carrier, albeit ultimately owned by Air China. I played around with their self-service check-in kiosks for a bit. My budget carrier didn't offer this option though.
There wasn't much to see or do out here. I walked out to spot some of the planes from the roadside, although I could only spot a few gates from that vantage point.
Back inside, I noted 3 TV screens showing departures in Chinese, Portuguese, and English. The 3 Jeju Air overnight departures to Korea were there.
A line of reserved buses were waiting outside. I suppose the airport would close down shortly by 2am.
I then went downstairs to the arrivals hall to check out the bus stop, which I would need on the return flight home.
Security had a line but it kept moving so it wasn't a painful wait. Air-side, the facility was also crowded, and soon I realized why. There were many delayed flights tonight. While I wasn't sure why so many were dropping off the charts, the weather had gradually deteriorated outside with sporadic heavy showers and a thunderstorm warning. Luckily, my inbound from Muan arrived early, so unless the weather stops the airport entirely, I should be able to leave on time with a comfortable 2 hour turnaround, a lengthy one for a budget airline.