Get your bearings right by starting at Niagara Square in the heart of downtown. From here, streets radiate out in all directions. The monument in the middle commemorates the assassination of President McKinley in 1901.
This is also a great place to admire the imposing City Hall building.
South on Delaware Avenue are court buildings where trucks advertising bail bonds are parked for your information.
The assassination trail took place in this building. Go through security, drop off your camera at the front desk, and explore around. Photography is not allowed in the building.
The neighbouring streets have more tall buildings but the downtown is generally quite small and easily walkable despite the cold weather. Buffalo gets some nasty winters and a lot of snow due to the lake effect. While nearby Toronto has completely melted, Buffalo still has piles of snow on its streets.
St. Joseph Cathedral was dedicated in 1855. It is a welcoming place for a warm-up break, just a stone's throw from the court buildings.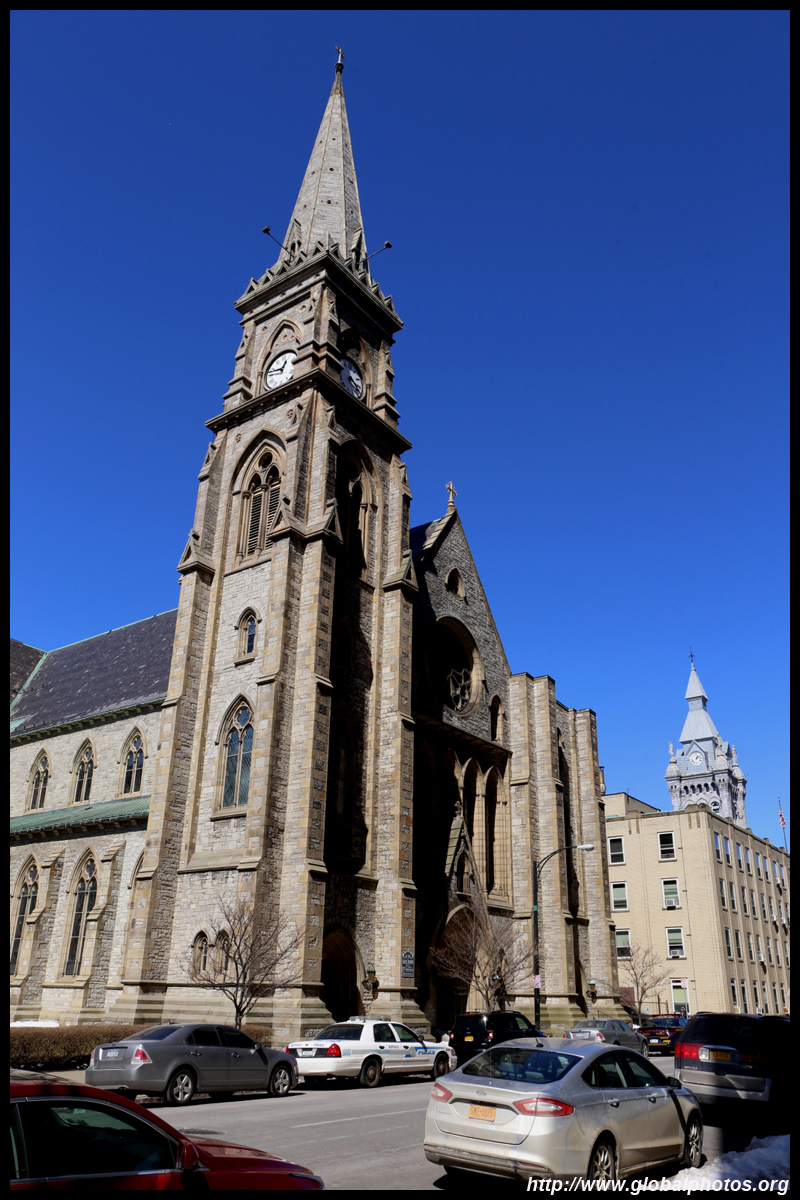 A closer look at the former HSBC headquarters building on the south side of downtown.
Just a block away is another cathedral. St. Paul's was built in 1849 while its tower was completed in 1871. The Gothic Revival cathedral was inspired by rural English churches and the interior dates from 1888.
Across the street, the Guaranty Building was completed in 1896 and was revitalized by Hodgson Russ. Today, it hosts a small exhibit on the ground floor and visitors can freely enjoy the ground floor space.
Main Street has turned into a pedestrian avenue with the train line running along the middle. It is not a bustling street market by any means, although the free train rides along this above-ground section is a good concept.
Ellicott Square Building was built in 1896 in Renaissance style. The largest office building in the world at the time, its grand appearance on the outside is matched by a beautiful central court with a glass ceiling and staircases. Watch for staff to ask you to sign a waiver for photographing inside.
The Old Post Office is now repurposed into Erie Community College, with a steady stream of students coming in and out to keep the building lively and useful.