In-Flight
I scored a fairly cheap plane ticket to Hiroshima for the October Golden Week. It took a few transfers but I made it on-time on a sunny afternoon.
I arrived during the "dead" period when there is no bus to the city for over an hour. Had I researched this beforehand, I would not have rushed to pass immigration and customs before the rest of the plane got ahead of me. I toured the departures area to kill some time.
Hiroshima
The beautiful sunshine kept on going strong as I made my way through the first part of my itinerary. Shukkeien is quite a cozy landscaped park with leafy and exposed areas. You get a little surprise view of the same lake at every other turn. I liked this a lot more than its counterpart in Okayama.
I didn't spend much time here in fact - a full day only, covering the typical touristy places such as the castle, the Peace Park, and the trams.
I am particularly interested in the plastic models of food placed at the windows of Japanese restaurants. Don't they look so real?
With the yen being so cheap, eating out became a lot more affordable. This local specialty developed after hardship times fell post-World War II, and citizens stuffed thin pancakes with all sorts of goodies to fill up. By the way, this is the actual thing, not a plastic model.
Miyajima
Being a World Heritage Site, I expected plenty of crowds here. To beat them, I set off very early against the beautiful autumn sunshine to see what this floating temple is all about. It is indeed impressive.
Luckily, these deer are not as aggressive as their cousins in Nara.
The many walkways along with ocean-side setting make this temple really unique. I came early to take photos of the gate flooded, although if I arrived towards the end of the day, I may have been able to walk out to touch it even.
There are many other temples around town which are not as frequented by the crowds.
After a quick lunch break enjoying the local specialty - oysters - I headed uphill to seek panoramic views. There was no shortage of that.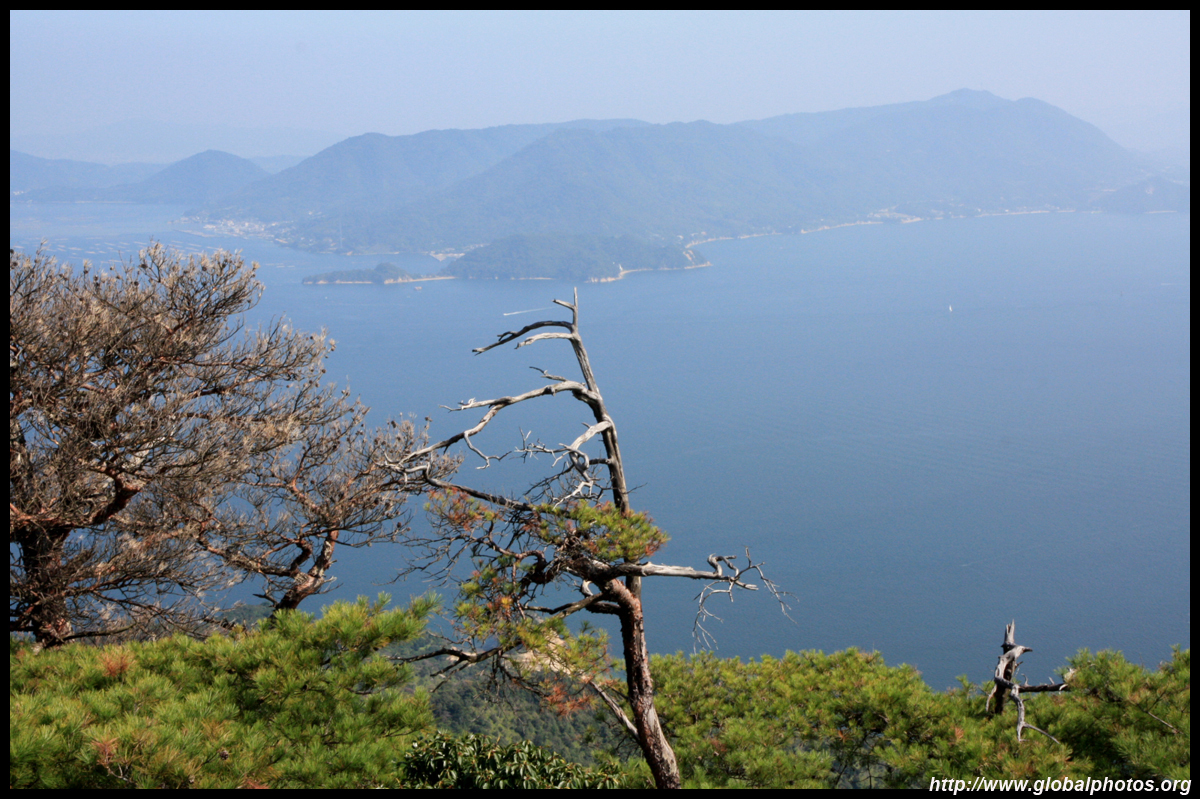 I wasn't ambitious enough to cover all the temples on the island, but was satisfied at what I achieved. Each temple had its own character, and after being templed out, I would grab a local snack and then start again.
I got addicted to these during my stay. They are little cakes with all sorts of filling inside, and are a local specialty in Miyajima but you can also find them in Hiroshima. I liked the red bean one most.
Iwakuni
Miyajima is perfectly do-able as a day trip, but I was crazy enough to bundle it with Iwakuni further west. The train ride didn't take long but you need to connect on a bus afterwards. I arrived at around sunset, when the crowds have already thinned out. The gate attendants were already gone and you pay admission using the honour system.
Kintaikyo is a unique multi-arched bridge made of wood. Stretching 200m across the Nishiki River, the builders didn't use nails to assemble it together.
Onomichi
You need to get your feet dirty in this town to admire the various temples that dot the hillside.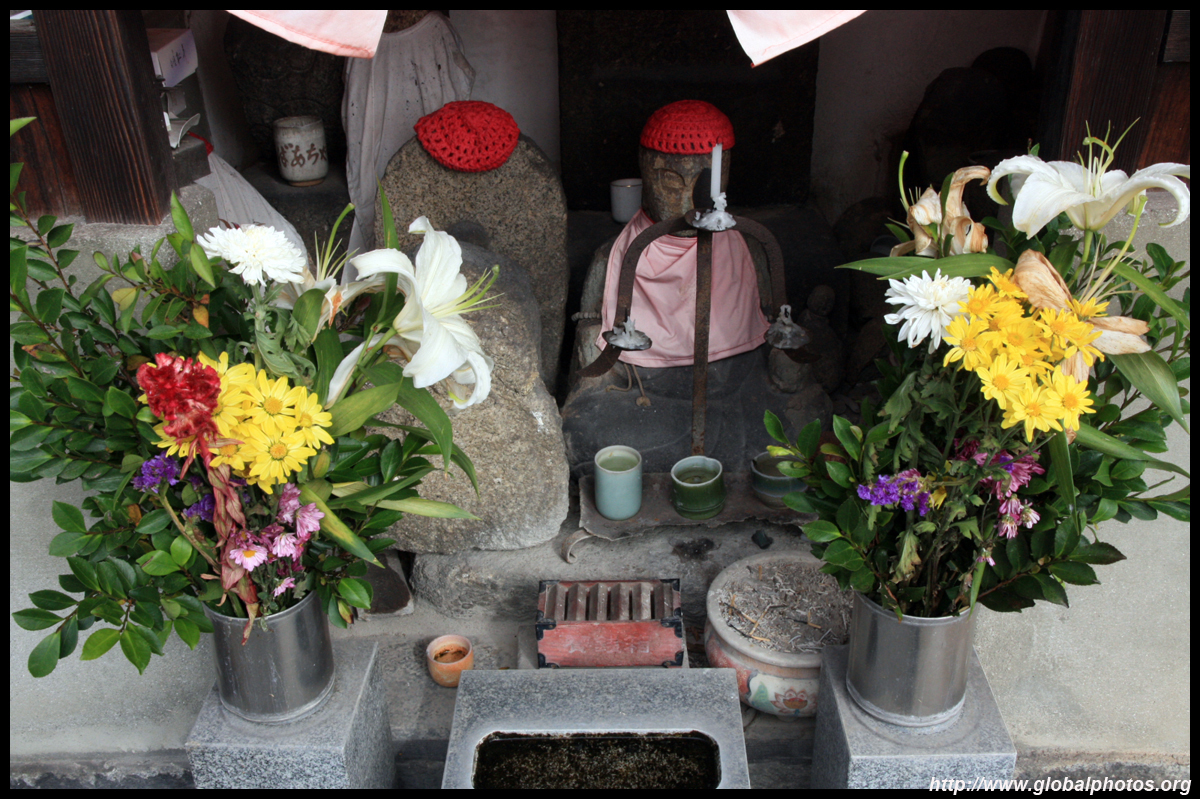 The scenery is quite nice since the town borders the ocean and there are picturesque mountains and islands beyond. Surprisingly, there were few tourists.
The tourist information centre at the train station has a good English map showing you how to get through these narrow side streets and staircases to reach the many temples.
What is great about this place is you can get a temple all to yourself. These places are built for serenity and reflection, and you will get that ambiance here.
You will not be disappointed with the many varieties of architecture and temple settings here.
I am a big fan of noodles and their derivatives. They are not too filling on intense walking days like this but it is easy and quick to eat compared to the rice dishes which fill you up and make you sleepy.
Trains run fairly close to the streets and residential areas. I was lucky to have stumbled across this pedestrian bridge for some good contrast photos.
Bitchu-Takahashi is famous for Japan's only mountain-top castle. First built in 1240 and subsequently expaned in the 17th century, it is not reachable by road. I grabbed a taxi from the train station uphill to a parking lot, and then hiked for 15 minutes through the forest for the rest of the way. Who would want to invade such a remote site?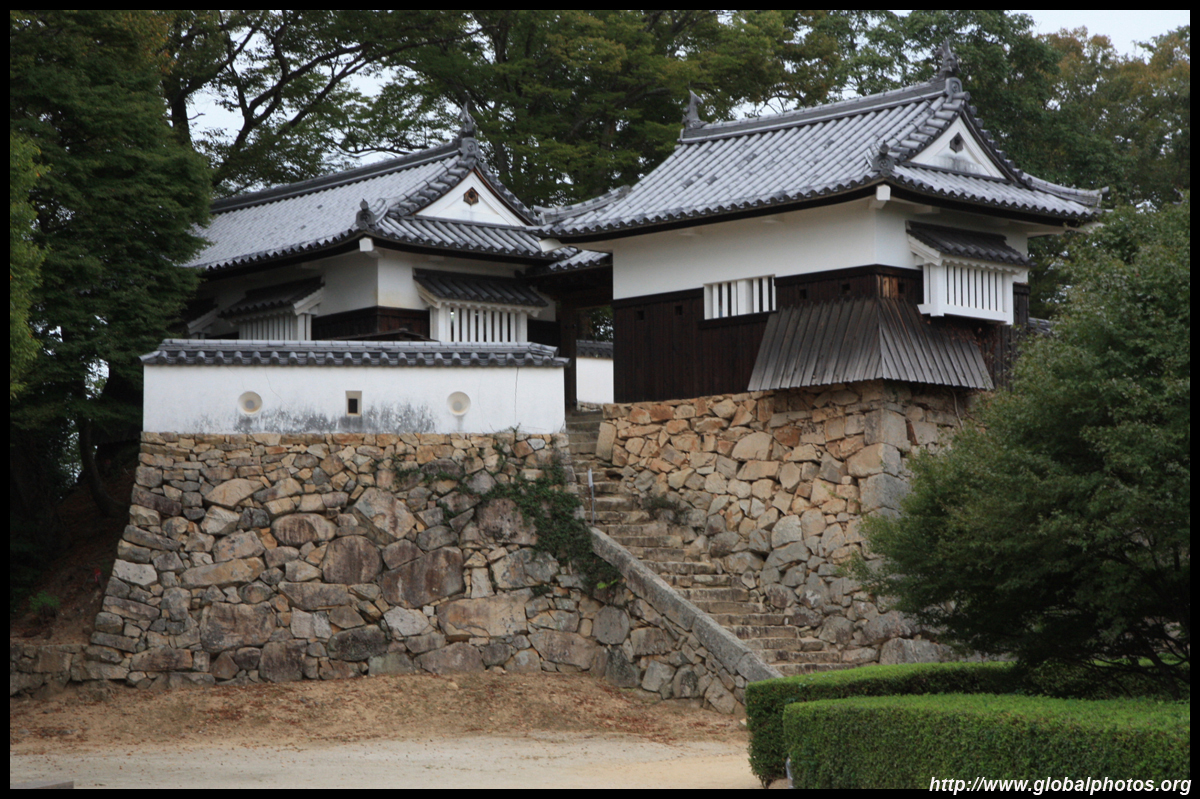 Back in the town, even the public education posters have an element of cuteness embedded :
Okayama
By now, I was a bit sick of seeing castles so I opted to skip going up Okayama's reconstructed castle. While it was drizzling earlier in the day, the sun came out for a peek just as I got into position for the tourist shot.
I didn't like Korakuen at all. It didn't seem intimate but a bit too big with wide open spaces like a golf course. Perhaps if it were sunny, I would have enjoyed it a lot more.
This is a modern city with the standard boring lowrise architecture. I looked hard to find some traditional ones.
So my focus turned to the supermarket to see the freshest local produce. The grapes are really huge and very delicious! The best ones were crazily priced so I went for a lower grade in a 3-digit price tag instead.
Japan can be a very expensive place to eat, but you need to know the right places to look for more than affordable options.
Cycling is quite popular in the city, and they co-exist with cars and pedestrians well.
In the outskirts is the Kibi Plain, which was once a kingdom in the 4th century. I arrived a bit late to do the full cycling tour, so I just visited a few deserted temples to enjoy the cloudy skies, then rain, all by myself. I hope these places stay off-the-beaten track and not get flooded by tourists and commercialism.
Getting around in Japan is actually quite easy. Even though Matsue is facing the other ocean on the opposite side of Japan, it is less than 200 km away and do-able for a day trip. You just need to get up early.
Izumo
It seems every town has its own specialty foods that are packaged so to entice you to buy.
With that kind of exquisite packaging, it is hard not to buy a box.
After a bus ride from the Izumo railway station, I emerge at the forested entrance to the Izumo-Taisha Shrine.
The Izumo-Taisha Shrine is believed to be the oldest shrine in Japan, although the current structure is a reconstruction from the 18th century. The interior itself is off limits to visitors; you can only walk along the perimeter to admire the architecture.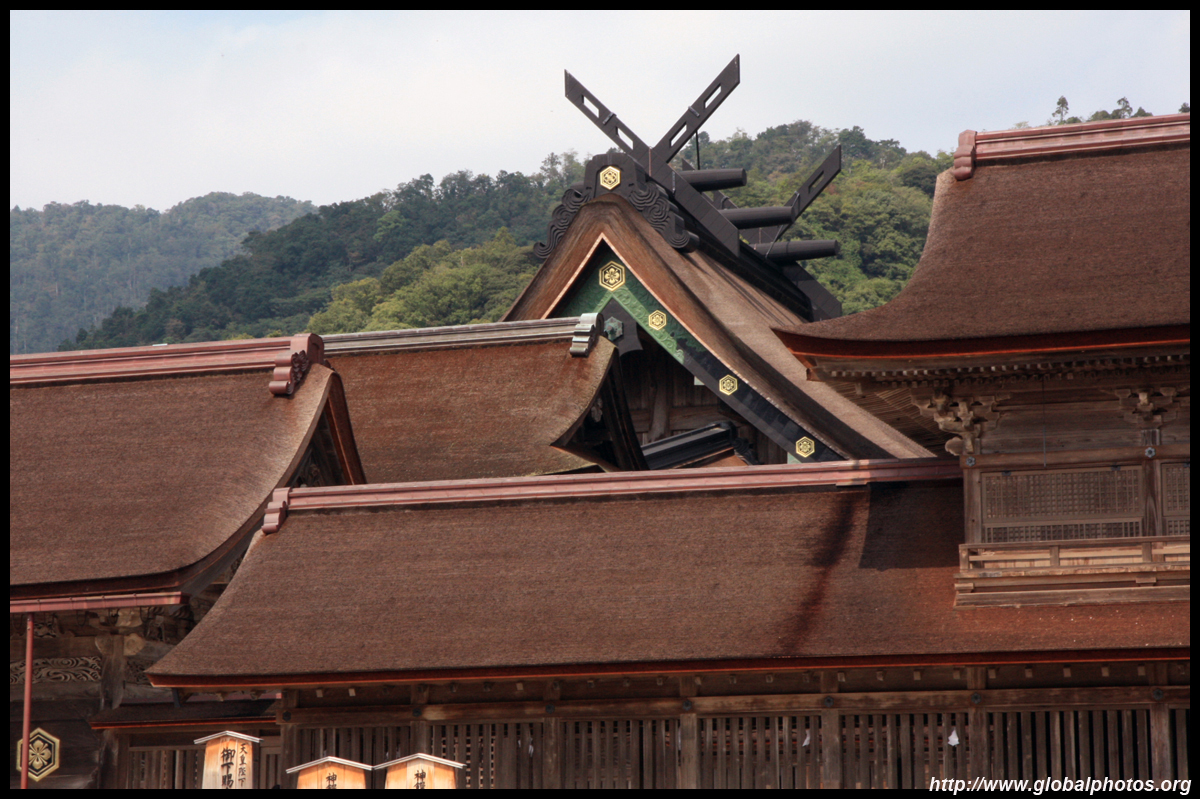 You get a wish, too.
Ichibata Railways is an interesting single-track railway that traverses between Izumo and Matsue. A lovely lady announces the stops manually, adding to the personal touch of service.
The fare is calculated based on distance. You grab a ticket at the start of the trip, and watch the corresponding fare table on the train.
At certain points of the line, the tracks double so trains can pass.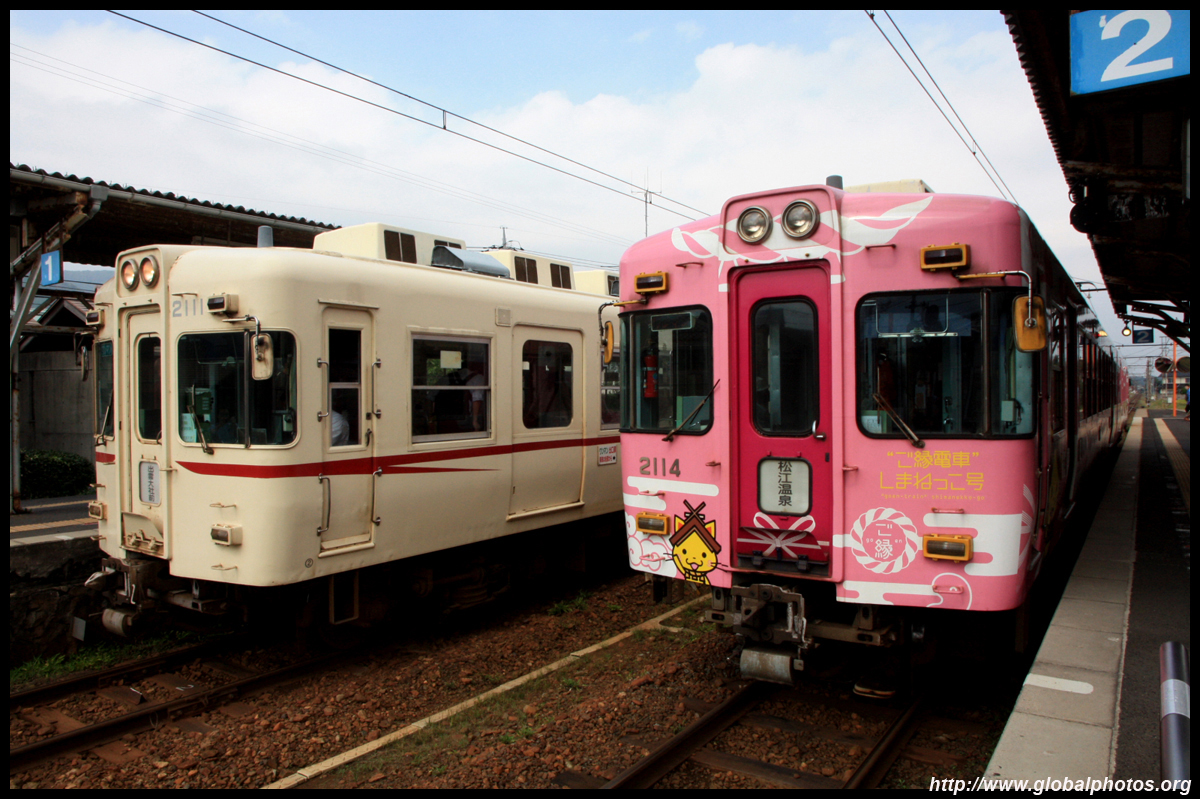 Taking an hour, it runs along the lakeshore at points, offering decent views.
Matsue
Original castles are hard to come by in Japan. Matsue Castle is 1 of them. Completed in 1611, it is set in a serene park and the building is open to visitors with an observation deck at the top. Matsue is quite friendly to foreign tourists. Present your passport and you get half off here and at many other attractions.
I have visited samurai houses before, and these ones seem no different. Shiomi Nawate is a 500m long street with traditional Japanese houses. This one showcases middle-class life during the Edo period.
I wouldn't mind reading or editing my photos facing this lovely garden.
Thanks for exploring this part of Japan. Head back to the main page below to see the full galleries of the places mentioned here.