I had just flown in on the same plane from Osaka, and all continuing passengers to Hong Kong had to disembark and re-board again later. With a brief transit stop in Taipei, I ventured out to see how their renovations have come along. The old Terminal 1 is slowly being transformed into a more respectable facility, and the designs are quite nice with lots of lights and some plant walls.
After a long flight, you may need to recharge your mobile devices at this box, which conveniently lets you lock it up while you shop.
However, the structural problems cannot be fixed, such as gates that are a level down so elevators need to be installed at each one. Luckily, the lounges are quite large although it still gets quite packed when a full plane awaits boarding.
The next leg of the journey was far more comfortable with empty seats everywhere, giving me ample time and space to photograph the seats on this new aircraft. I wouldn't have picked this 1-stop flight otherwise if it wasn't on the A350.
We would depart just as the sun sets and the sky lights up in a bright but dark blue hue. Although there are now direct flights between Taiwan and mainland China, Cathay continues to run frequent services between the two sides. You probably can't find as many Cathay jets parked at an outport as Taipei.
The IFE menu has been revamped with the subject selection now on the left panel instead of the bottom. It looks slightly more disorganized than before but seems to look a little more interesting.
Then, there is a huge duty-free shopping menu to keep the impulsive people busy for hours.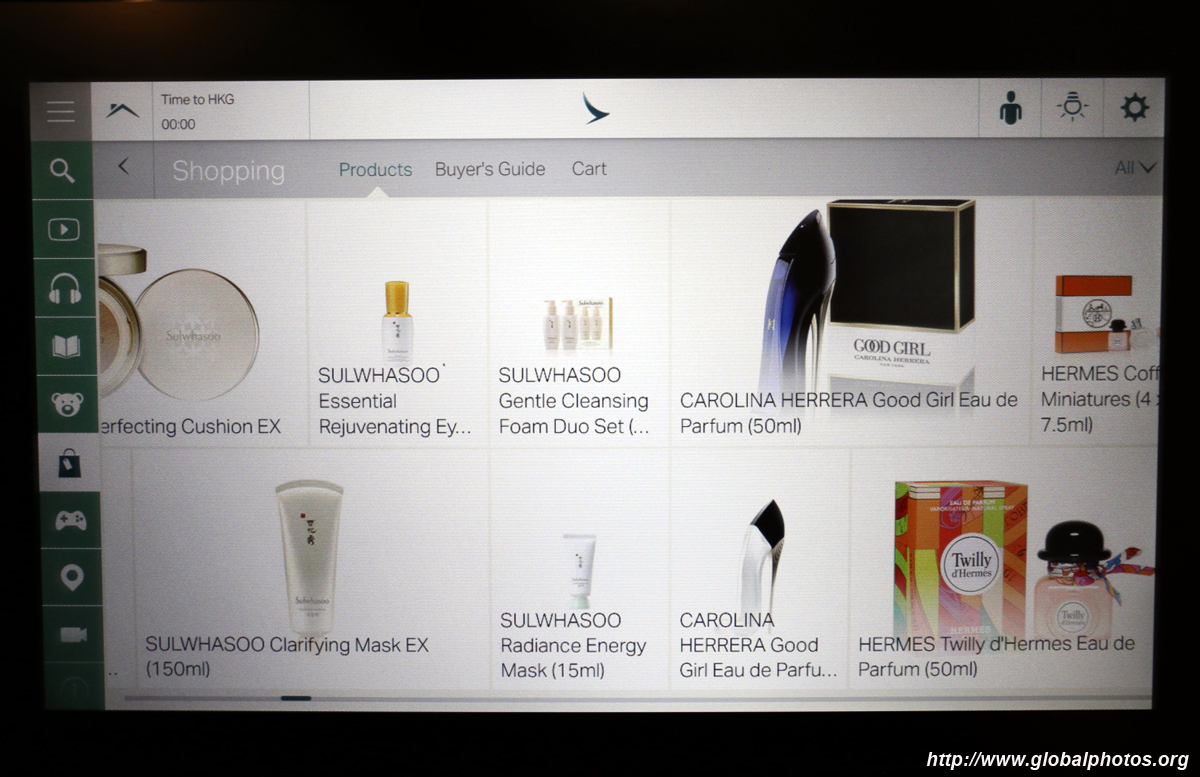 Some of the more unique rewards for big shoppers include this gym session.
I had commented on other airlines on their duty free limit charts in their in-flight magazine. Even better now is the chart has been automated into the IFE.
Wi-fi on board is a new concept for Cathay, and I'm still surprised how they can make it work as they shouldn't be able to get any signals over Chinese airspace, so a huge chunk of flight time to Europe would not work.
My favourite improvement to the IFE is the satellite television news.
We pushed back into the evening sky for the short hop to Hong Kong.
Being the dinner hour, Cathay now has improved its catering to provide a hot meal service despite the short flight time. Their Taiwanese competitors have been able to do this for years, but I understood why they didn't want to follow. After all, the available window to serve between seat belt signs is usually under an hour. The weather co-operated tonight so I could enjoy the simple meal.
With the previous flight being full, I did not have a chance to do a grand tour of the lavatory. It was stocked sufficiently and the basin was noticeably wider but shallower.
The rear galley had plenty of closet space to feed a full load of passengers on a long-haul flight.
Taiwan is a short flight to Hong Kong, and it is very possible to set off Friday night after work and come back Sunday for a weekend excursion.
Unfortunately, the arrival time was delayed from 8:56pm at the beginning of the flight to 9:04pm on approach.
Hong Kong is a major transit hub for Taiwanese passengers heading to China and abroad. This evening flight would be perfect to catch one of the red-eyes to Europe.
For connecting passengers, a useful note at the top left of the screen would prompt for further investigation on the next flight's gate.
Lately, Cathay has stocked up some classic TVB drama series, which would be perfect for passing the time on a long flight.
On final approach, the lit-up Hong Kong - Macau - Zhuhai Bridge and its 2 tunnel entrance islands were easily spottable.
The long 1-stop journey from Osaka back home was worth it to try out Cathay's new A350. The seats were comfortable, IFE interface has improved, and TV screen was larger. I was fed 2 meals and got to browse around Taipei's duty-free shops for some pineapple cakes as an added bonus. Traditional carriers still are competitive on the Japan routes despite increasing frequencies from low-cost carriers. After all, we stock up on quite a lot of goodies in Japan, and all the baggage costs for flying these prizes on a LCC will add up and make the savings go away quickly.
I don't see Cathay having to worry about competing against the LCCs. Rather, they should be worried about other traditional airlines charging far less for the same route, such as Air India. They may not offer the nicest plane or the best service, but for the flight time, is it necessary to pay such a premium?