With a political stalemate and ongoing hartals, Gulshan is the safe haven to be. Life continues as usual - the rickshaws are running, the offices are open, and people still eat at the nice restaurants in this bourgeois district.
I expected chaotic street markets, and I got what I wanted.
It is difficult to guess the local numerical script. Luckily, the street signs are bilingual.
Rickshaws are a very common mode of transport here, and they are richly colourful to grab your attention. Sometimes, 1 puller can even handle 3 men in the same vehicle!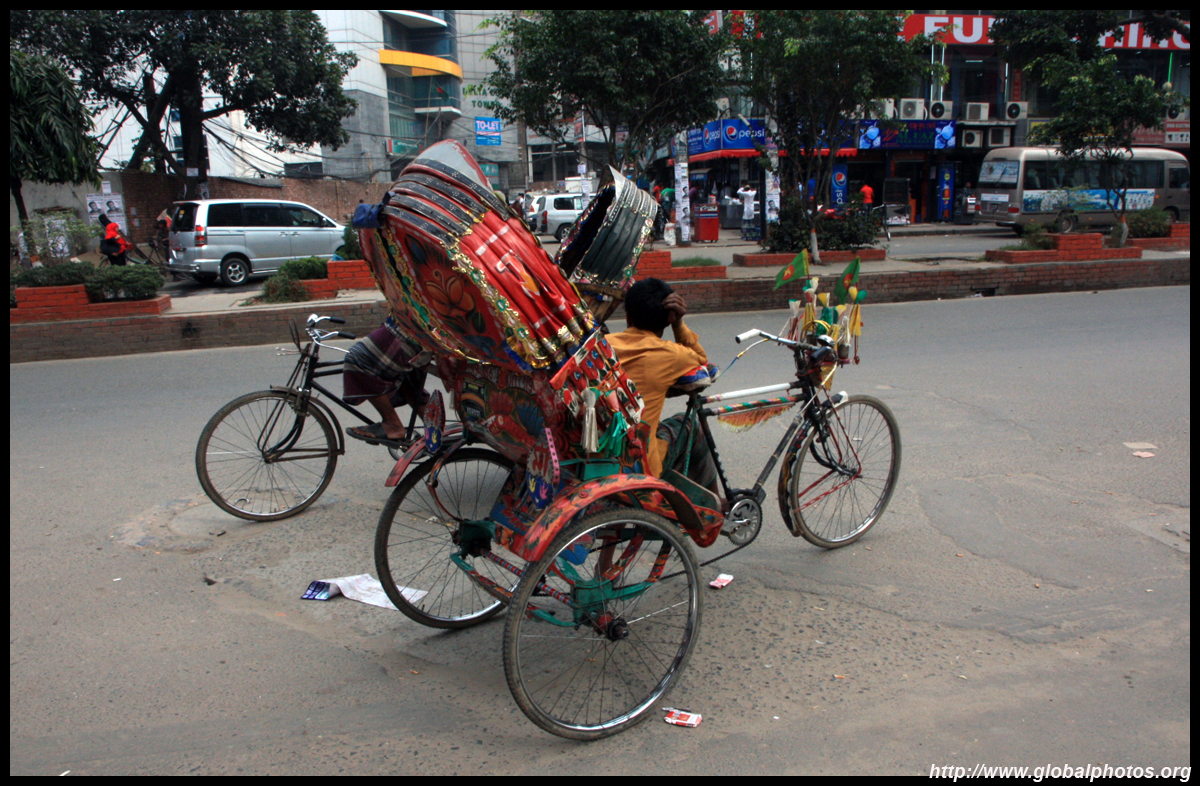 A political deadlock has paralyzed the country and has created a wave of violent attacks and blockades in cities. The opposition leader worked out of this office, which was surprisingly not surrounded by heavy security.
Buses are regular targets for crude petrol bombs, but life goes on and people still go about their daily routines.
But many of these buses are in awful condition.
Rooftops are a busy place in this city. With dry season, you can hang your clothes up there, play games, or just perch by the edge watching the city bustle.
Bangladesh is a Muslim country, but women are not covered head to toe. There is an element of liberalism, hence ads like this can survive.
Transportation is a huge problem in Dhaka. Budget plenty of time for any short trip and then triple it. There is no metro for such a huge city and congestion around major intersections is crazy. Meanwhile, these side streets were surprisingly serene.
Just like the Routemaster, you get on this double decker at the back, which is what many people chasing it down the street was trying to do.
Winters are actually quite cool here, with morning temperatures below 20C. Hence, riding a rickshaw or a CNG tuk-tuk is actually not too bad. With so many cars on the road, everyone fights for limited road space. These tuk-tuks look like prisoner transports though.
However, change is in the air. There is a lot of construction and work seems to go on around the clock.
After visiting India so many times, road blocks like this are no longer a surprise.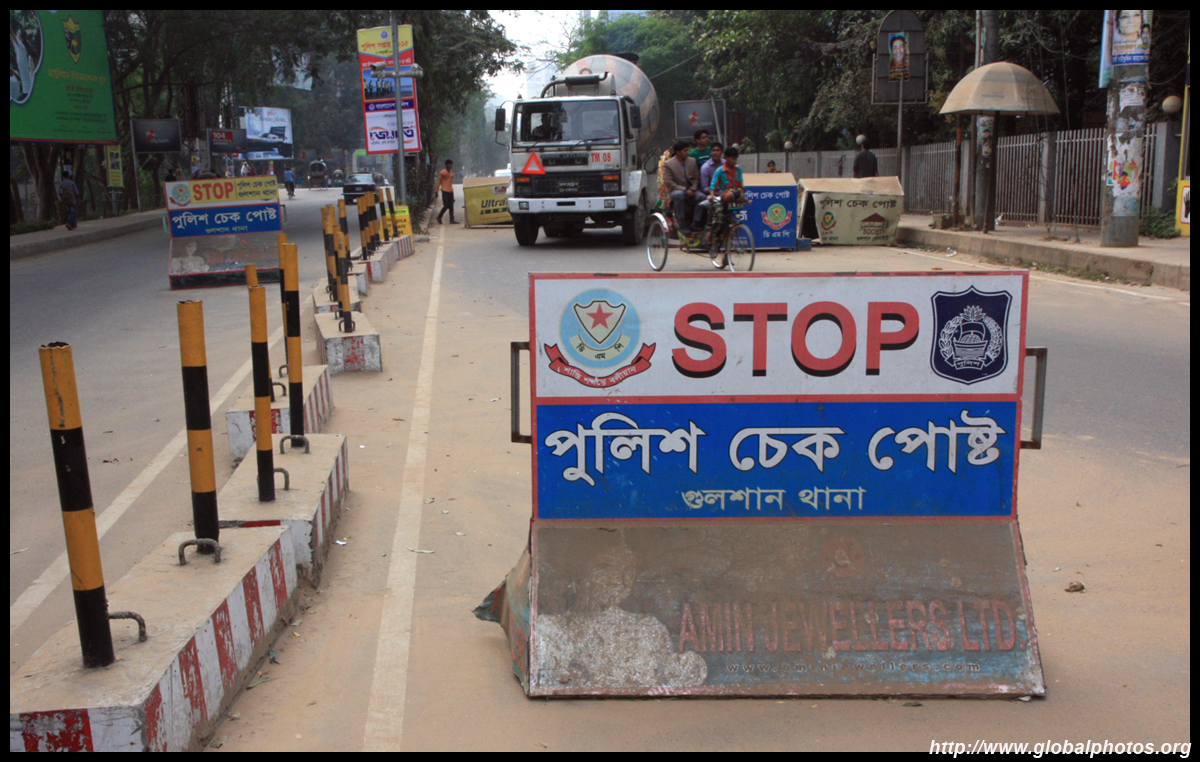 Street food is great to photograph but not good to taste.
For a city of almost 15 million, there aren't too many tall buildings. You only need to go about 20 stories up to get an unobstructed view.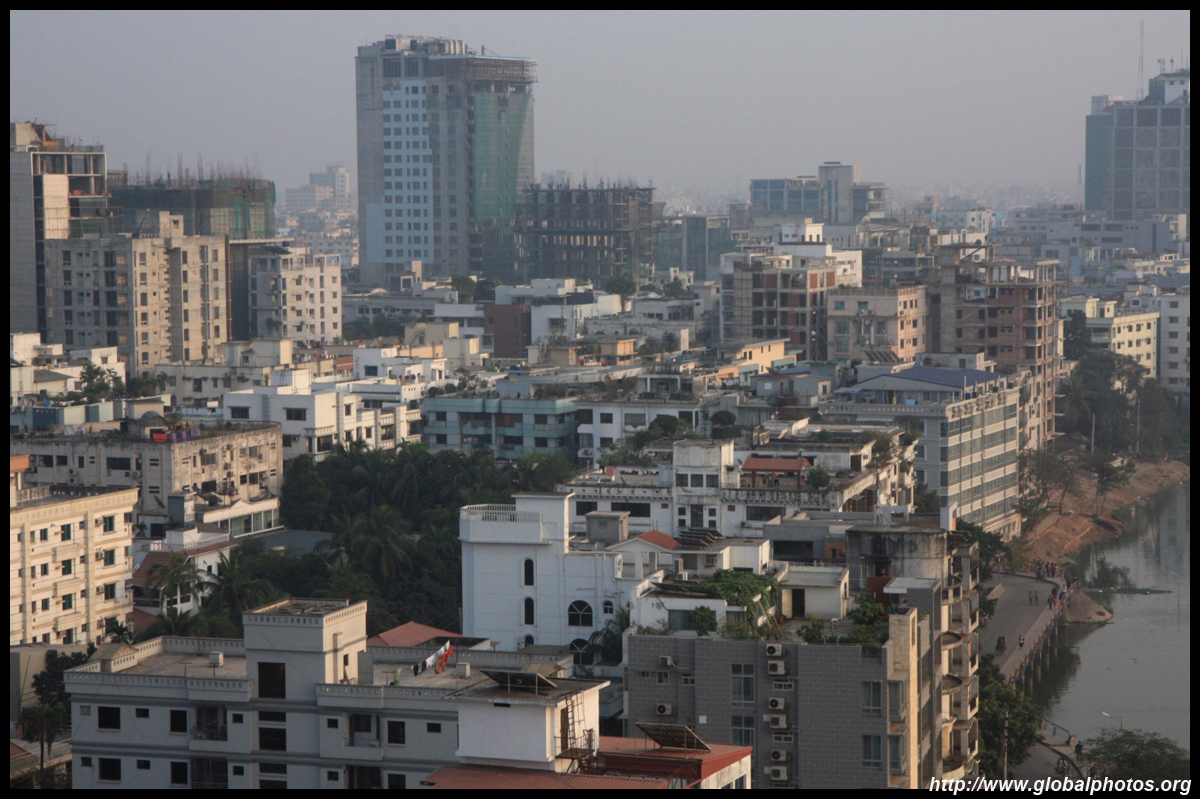 Gulshan is the embassy and financial centre of the city.
Of course, you need an infinity pool to complete that bourgeois experience.
This looks like a political ad.
Despite the threat of violence and bombings at night, I braved the streets and enjoyed a decent dinner at the best Japanese restaurant in town. I stayed away from the raw foods but the cooked ones were excellent and the setting was great.
But Dhaka is a lot more than Gulshan. Hope the next time I return, the blockade will be gone and I can venture into town for some real sightseeing.