Flight Report : Hong Kong - Jakarta - Yogyakarta
1 July 2016
..
CX 777
Hong Kong - Jakarta

Indonesia is a well-known tourist destination to Hong Kongers, but that is usually just Bali. Today, I take the maid express bound for Jakarta and will do a long transit to Yogyakarta, where UNESCO World Heritage temples well worth seeing are located.
I got to the airport with plenty of time to drop my bags off. With my Marco Polo membership, I could skip the plebian lines and use the Business Class check-in at aisle B. However, the signs weren't so clear to show agents were on both sides of the aisle, so one side was completely empty while a long line emerged on the other side.
I took advantage of this imbalance of information and didn't have to wait in line. The agent asked if I wouldn't mind an upgrade to Premium Economy today as the flight was overbooked. Although I lost my window seat, I happily took the upgrade. The agent told me some passengers don't like sitting in the front row, so she had to ask first. Good to be proactive.
Security was fairly fast and efficient and I was air-side in no time. As I emerged from the formalites, I spotted a newly-painted Cathay plane with its simpler green and white livery. I'm not a fan of this new design so I now need to photograph as many of the old birds before they get transformed as well.
My flight was parked at a very convenient gate 2, presumably from a long-haul a few hours earlier. A long line snaked around the gates, which I assumed was for Economy, but there was no Premium Economy line. There was a Business Class and MPC elite line, but the sign for the other premium members didn't point to anywhere, so I joined the Business Class line and got processed with no problems.
Premium Economy seemed to be full today, presumably from a few upgrades. My friend was also upgraded and I overheard another lady being upgraded at the gate as well. We pushed back on time and roared into the western skies.
Being at the front row, my TV had to be stowed during take-off and landing.
Premium Economy gets to eat Economy food and there were no welcome drinks upon boarding. I'm a bit confused at the business strategy - was this cabin designed to prevent Economy passengers from being upgraded to Business Class? I thought there should have been more differentiation with the service. We got nice noise-cancelling headsets and a wider seat, so I suppose on a North America long-haul, there probably is market based on the nicer seat alone.
There weren't many Chinese or Western tourists on board at all. The feedback I got before was - what is there to see in Jakarta?
The flight passed by uneventfully and I enjoyed some light comedies on the IFE. 4 hours later, we landed into a very hazy Jakarta ahead of schedule.
The arrivals area seems a bit old, and not well sign-posted. We were turned around at the main immigration queueing area as there was supposedly an area for foreigners only, which took a while to find on the side with only 3 counters masked next to the VOA sign. As Hong Kong passport holders don't need VOA and can enter Indonesia visa-free, I missed these counters entirely.
The baggage belt snaked around the length of the building but it wasn't too long before I spotted my bag. Although I was upgraded to Premium Economy today, my bag didn't get a Priority tag.
Upon exiting customs, I looked for signs to the departures area, which there were none. Eventually, I found an elevator hidden away that would go back up to the departures level. However, the departures area is quite big and there were many gates to enter for the check-in counters, but no big sign that says which flight would be at which gate. Sign-posting is really an issue here and it is not easy to find things.
A Whirlwind Transit Tour of Jakarta
All advice pointed to not leaving the airport for city sightseeing even though I had some 6 hours of free time. Jakarta's traffic is notorious, and you can easily get stuck for many hours even along the dedicated airport highway. We bet against the odds and stretched our luck.
GA 218
Jakarta - Yogyakarta


After a quick tour of Jakarta's old Dutch town, and realizing the museums were closed early for Ramadan, we headed back to the airport by taxi in lightning speed time. I guess Jakarta is on vacation during Ramadan and everyone emptied out. There were minimal traffic jams only at the airport area. The rest was clear.
At one end of the departures area is the prayer section. There isn't too much to shop or eat but there are plenty of ATMs to get rupiah.
Having checked in when we arrived from Hong Kong, we leisurely passed the initial security check into the check-in area and continued behind the counters to see a huge mall with gate seating. This is probably the only large airport from my travels where you don't go through the official security scanning before sitting at the gate seats.
The departures area is functional. Enough said.
Garuda's premium passengers have a separate check-in and sitting area. The staff here were cheerful and pleasant.
Several banks have private lounges just behind the check-in counters within the mall. There were a few food options, including the deadly Krispy Kreme and a small Haagen Daz storefront. As it was sunset, green food boxes were being handed out to Muslims so they could break their fast.
I browsed around the bookstore and souvenir shop to see what local foods were on sale. The packaging is not so enticing although the contents look interesting.
I tried to enter my gate's holding pen a bit early as I had some time to kill and no more shopping to be done. The security guard turned me away and said in broken English to come back at 7pm. That was good advice as the holding pen is very small and there are not enough seats for our 737 load tonight. Here is the big open pit just beyond the mall.
Since Indonesia was entering a holiday long weekend, it was extremely difficult to find a seat out of the city, whether it be on a bus, train, or a plane. Being a fairly rushed booking a month before departure, there were no Economy Class seats left on Garuda, but after a few days of observation, a magical single seat emerged at a reasonable price. No Batik Air this time.
The domestic terminal consists of multiple buildings that resemble a resort. The actual airplane gates are in individual pods linked to the main terminal via glassy bridges. The official security checks happen here even though there is gate seating outside before security clearance. I wonder whether friends and family can enter through the check-in area's initial security check?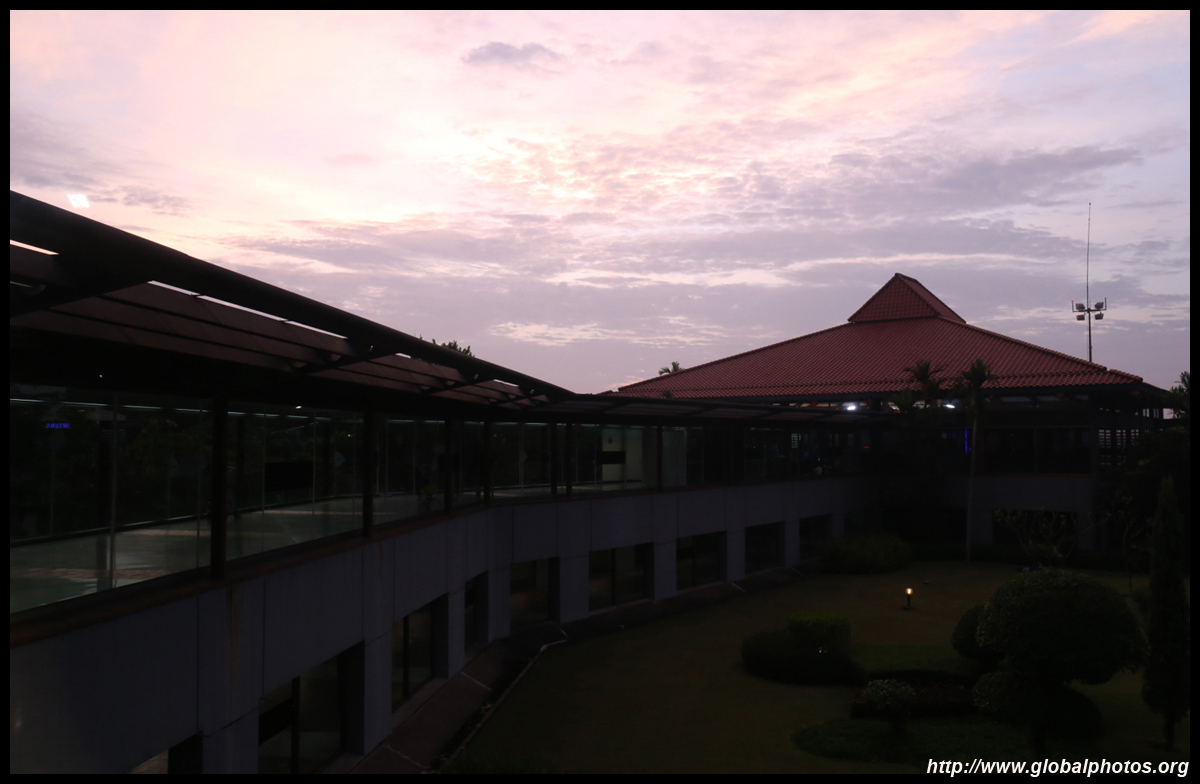 Passengers were led downstairs to buses. Business Class passengers had their own van while the rest of us out back got on a fairly new bus and headed to the remote gate.
Tonight, I am flying a fairly new 737 with PTVs! We departed late but the flight time was under an hour only. Garuda's service made up for the delay though. For such a short flight, we got food boxes consisting of a bread, cookies, and water. They tasted decent and looked like the Ramadan boxes in the terminal.
We encountered a few bumps on the descent and landed in the outdoors at Yogyakarta's airport. There are no connecting gates so everyone disembarked onto stairs and made a short walk to the baggage claim.
It didn't take long for the bags to come out, which was great since the hall was small and old.
I had initially chosen Garuda as the better of evils. I didn't like Lion / Batik's safety record, but still remember the days when Garuda was on the no-fly list into Europe. I had taken a gamble, and came out surprised at how good the airline has become. Service was great for such a short flight, although the airport experience still screams Third World.