I recall my past flight reports leaving Narita mentioned how far this airport is from the city. Unfortunately, Hong Kong Airlines only flies out of here, so to comfortably make my 11:50 flight, I decided to leave early at 8am, hoping any traffic surprises won't have me running for the counter or even missing my flight. I could do some plane spotting at the airport and last minute duty free shopping to spend the many extra buffer hours.
The cheap 1000 yen bus from Narita has been rebranded as TYO-NRT. It leaves from bay 7 at the Yeosu side of Tokyo station - not the historic side. Reservations are not necessary thanks to frequent buses during the morning rush, and the website was in Japanese only anyway. I got to the bay at 7:55 and there was barely a line to board. We ended up departing at 8am not even half full.
There was no traffic en route and we pulled into Terminal 3 58 minutes later. The bus stops at every terminal with T1 being the last stop. Staff at Tokyo station would ask you which terminal you are flying out of and give you a baggage ticket for anything going into the hold. Typical of Japan's great customer service, you don't need to put your bags into the hold or take them out on arrival, but staff will put them neatly on the curb and ask for your baggage ticket in order to retrieve the bag.
Terminal 1 is an old-school building and screams retro, but they have maintained it well and unlike old dumps like La Guardia, this place is clean and renovations have kept it looking good. The south wing is all Star Alliance, and Hong Kong Airlines departs from the north wing, which is branded for Skyteam.
I was in line at 9:10 and staff were just getting ready to open check-in. A paper sign noted they would open at 9:20, although they were a bit early with the official opening ceremony with the staff coming in front of the counters for a bow.
I was #2 in the online check-in line. The agent was friendly and despite holding only a Basic Economy ticket with no luggage allowance, she was fine to take my 9kg suitcase in. When I asked for a right window seat, she took out a paper seat map and told me only the first exit row is available at a charge. Sending my bag away took a bit of time as her system hung, but I ultimately walked away with a nice Hong Kong Airlines glossy boarding pass, a testament to the good old days when flying was not based on a supermarket receipt.
With the gate closing 2 hours later, I had a lot of time to explore the terminal's many shops and restaurants. The Tokyo 2020 store was well-stocked with all sorts of memorabilia, reminding me the Olympic movement is just as much about money as it is sports. Hope the coronavirus won't force a delay or even a cancellation later in the year. But if that happens, these items would be worth a heck of a lot of mullah.
I wasn't hungry after my hotel breakfast, but if I were, I'd be quite happy here with lots of familiar Western brands as well as local food that isn't noticeably more expensive than in the city. There was even a post office where I sent off my postcard for 70 yen.
If a 4600 yen plate of sashimi is not within your budget, try the rotating belt sushi for 150 yen a plate.
Japanese airport observation decks have survived the security scare after 9/11, and stopping by for a browse is one of my must-do's when in Japan. The T1 deck was a bit disappointing though, only occupying a small part of the terminal and I could only properly see a few ANA jets in the distance, Vietnam's Dreamliner, and Garuda. The far north pier where my plane was parked was not easily visible. However, I must give credit that they have thought of the avgeek here, with large holes for a big camera lens to poke through their fence. There were a few serious spotters with the big gear here already.
Behind these planes is the active take-off runway.
Japanese toilets are an institution. These ones are super clean and have various electronic functions. The flush is located on the wall and you can distinguish between a big flush and a small flush.
For avgeeks, there is a memorabilia store for their needs.
Back at the Star Alliance wing of the terminal, they even advertise the toilet brand. Bring one home.
Automation has also creeped into this airport, which is a surprise given the Japanese are quite insistent on their customer service. Even bus drivers announce everything live, so how can airplane passengers check their own bags in?
Entry into air-side was surprisingly quiet and there was no line to both security and immigration. While they have installed kiosks for exit immigration, I wasn't sure whether that applied to foreign passports so I went straight for the counter anyway as there was no line. For such a huge and busy airport like Narita, I was very surprised how efficient all this was. Hope the US airports can take a page from them.
The first display case that caught my attention is the banned items section. Can you spot the counterfeit bag?
The air-side shopping selection is also a mix of wealthy and budget options. A large drug store chain has a branch here, although they were out of face masks as well. I helped myself to some disinfectant wipes.
Most of the air-side section looks renovated and the central seating area is quite well-designed with a variety of seating positions. The long row of desk has plenty of power plugs and even office quality chairs. Some window areas had paid-for leather chairs for added comfort. The use of metal, wood, and green are very comfortable on the eyes and they thought of the small details well.
There was even a store that I mistook as a museum, but they actually had signs at these 3 artifacts that photography is allowed. I usually think it is the other way around.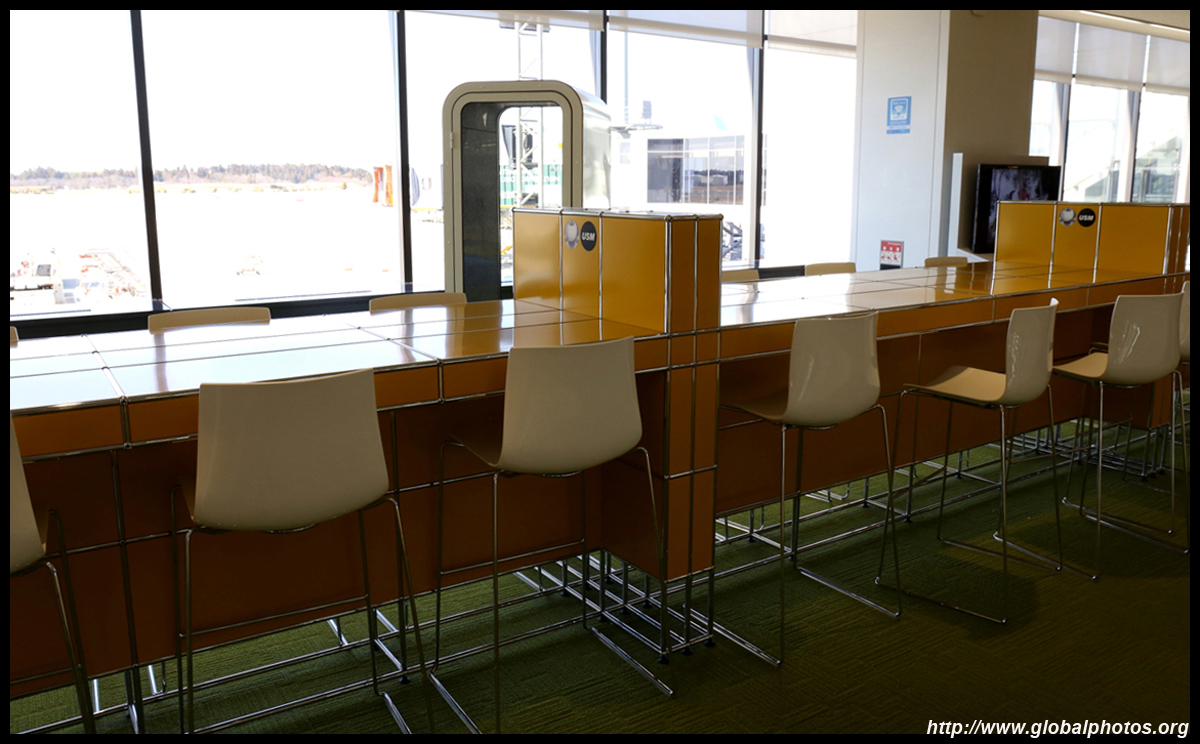 The ANA pier was noticeably busy this morning with lots of people seated. I found a few windows to spot some planes, although the selection was not too great. I've had much better variety in Hong Kong and Heathrow. However, some unique birds here that I don't often can get a decent photo include Alitalia and Air Busan (only arrives in HK late at night).
I was delighted to find a 7-11 here, and the prices are the same as in the city! One of my favourite quick foods in Japan is their egg sandwich, and they had plenty in stock here. This would be a wise choice as the inflight catering would be disappointing. More on that later.
My plane had previously arrived from a red-eye and landed early in the morning. Seeing it parked there was reassuring.
My gate in the upper tens is located in a circular pod on the other side of the airport. The floor had been ripped out and the ceiling seems to be under replacement as well. Since this area was small and under construction, the duty-free selection was far worse than the ANA side of the terminal. Disappointed but still having enough time, I walked back to near the immigration exit to do some last-minute shopping.
Japan has made itself famous for the many. many, and I mean many flavours of this Western chocolate brand. However, the cheap stuff I liked (yuzu matcha) land-side were not available at this side of the fence.
Boarding started on time and there was a staff to enforce the zones. However, there is no zone printed on my boarding pass, but as I approached the gate like a bewildered lice, I saw Zone C was for the back of the plane. By 11:30am, we were all seated and we still had 20 minutes to go. The flight looked quite full out back, but I wonder if it is because they cancelled the 3rd daily flight as part of the airline's downsizing?
The departure time came and went and the flight deck updated us of a no-show and luggage needs to be offloaded for our safety. He expected a delay of 10-15 minutes. I suppose this isn't the airline's fault and when the doors finally closed, I saw the Air Calin jet next to me getting pushed back. We had to wait until it cleared before we were able to push back half an hour late.
Today's flight time of 4h55 was noticeably longer than the inbound, which was only 3.5 hours thanks to tailwinds that propelled us well over 1100 km/h. With over an hour ready at my seat waiting to depart, this would be a long day in the seat. The passenger announcement also noted no IFE and for health reasons, the meal service would be amended accordingly.
ANA's Hawaii turtle!
We taxied to the far end of the airport, where there was no line to take off towards the north. With no right window seat, I hoped for the best. Tokyo Tower and Fuji were visible on my side initially behind the haze, but as we looped around and skirted Honshu's coast, I knew the best views would be on the other side of the plane. The first few minutes were bumpy but the sky calmed down soon after. Maybe I should have forked out a handsome sum for an exit row right window at the front of the cabin after all. Japan was having a sunny day and it was pretty much clear sky from Tokyo all the way to Kagoshima.
After taking off to the north, we soon looped around to head south, then west.