Plane Spotting Showcase 2009 Photo Gallery

It's time to recap my 2009 plane spotting adventures. I've decided to separate this out of my 2009 flight report recap. I think I've flown enough to have sufficient material for both threads! My final flight tally in 2009 was 36 flights, a new record.
1. January 1, 2009 - Awaiting for my flight home in Changsha, China. A year later, a new high-speed rail link connects this city with Guangzhou in an hour, and tours are starting to offer train journeys instead.
2. January 11, 2009 - I don't live too far from the airport in Hong Kong, so I tend to have some spare time left to spot planes before I fly out. I helped myself as the flight to Beijing was getting ready for boarding.
4. There are quite a number of 747s coming to Hong Kong. Even Taipei, a short hour flight away, gets a fair share of these aircraft.
5. This Air France jet looks a bit beaten up.
6. Several Indian carriers have started flights to Hong Kong in recent memory. Tour prices have greatly decreased, probably because of the terrorist attacks. India is not too high up on the list for a vacation yet.
7. A historic relic ... this livery is going away!
8. January 23, 2009 - It felt especially cold at Beijing Airport because the new terminal was not properly heated, so I tried to stay under the sun to keep warm.
9. The days were short during the winter, so the lighting was all off by late afternoon.
10. February 22, 2009 - Time to head to a warmer place. The skies were not bad that day, so I got some more plane spotting photos out of Hong Kong.
12. A few more 747s I spotted that day!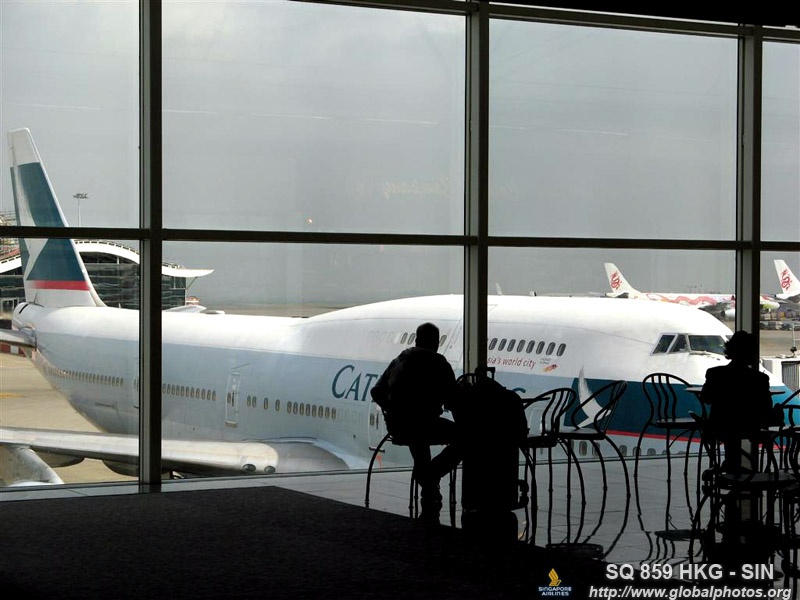 14. This ex-CX A340 was repainted in Hainan Airlines colours and sat at the end of the runway ... for a very long time.
15. February 27, 2009 - It was an early flight into Kuala Lumpur, but I managed to squeeze in some plane spotting in Singapore. I really don't like how Changi Airport is set up - it's actually very unfriendly for spotters as each gated is boxed out and requires boarding pass access. Even the new T3 is like that ... can't believe it!
17. From Sentral station, it was a quick ride to Kuala Lumpur International Airport. But I opted for the cheaper bus that left right downstairs from the train station, because I was heading to the budget terminal, which is not connected with the main terminal and train connection. But I could see the main terminal from the budget terminal!!!
18. April 27, 2009 - Seoul Incheon is quite a nice facility, and with a new satellite terminal, there are more plane spotting opportunities.
19. New livery ...
20. I'm still a bit afraid of getting into a Korean Air plane though ... the accidents from the 90s are still quite fresh in my mind.
21. May 14, 2009 - London Heathrow is a wonderful spotting airport. Park yourself at any terminal except the main BA one, and you are greeted with all sorts of visitors from around the world.
22. This was my plane across the Atlantic. The light blue livery is quite unique in the industry and stands out well.
23. May 24, 2009 - Toronto's Terminal 1 is the main Air Canada / Star Alliance terminal. There wasn't too much interesting stuff here, since many of the variety of international carriers are in Terminal 3. For those who don't frequent Canadian airports, perhaps this type of scene is a bit more interesting.
24. The Americans don't send big planes over either.
25. AC does have a few large jets here .. it's the largest airport in the country after all.
26. Soon, I'm back at London Heathrow!
27. May 25, 2009 - I didn't realize London Gatwick had wonderful spotting facilities until my first easyJet flight. So when I got a chance to fly out there again in 2009, I was well equipped to park myself at the air bridge.
28. I wonder if they patterned this out on purpose.
29. And the discount carriers are clearly separated onto the other side.
30. I expected to see smaller planes at Helsinki. I knew Finnair had a few large planes and they plied the Asian routes. I didn't think I'd be too lucky that afternoon though to get blue skies!
31. May 28, 2009 - My luck really came on my departure, when I had a bit more time to explore the airport abit and count the planes.
32. Smile for the camera!
33. I saw this type of jet in Copenhagen before, and it wasn't surprising to see it again at Helsinki. However, I really wonder whether it needs 4 engines. Doesn't that carry a lot of weight?
34. This doesn't look like an Airbus .. and not a Boeing either. Embraer?
35. I was lucky. There it is .. a long-hauler.
36. Returning to London Gatwick, I finally captured a plane crossing beneath my legs.
37. It feels like I'm on a helicopter getting a tour of the airport.
38. June 7, 2009 - I was pretty much in the air every month, which gave quite a lot of time to spot at home base in Hong Kong. Here I am getting ready for my flight to the tropics.
43. Another old livery that will disappear into history soon.
45. June 13, 2009 - I had a wild idea of going to Malaysia by air for a day trip. I had a choice of either Jetstar or AirAsia for a cheap flight. AirAsia won. Here they are in Singapore.
46. The last time I saw this airline was back in London many many years ago.
47. Jetstar flies to the main terminal, which is far more convenient. But it wasn't all that bad. I took advantage of a long walk on the ground to take pictures of AirAsia planes at Kuala Lumpur's budget terminal.
52. I also went to the main terminal to spot. But there weren't many planes around at that hour in the morning.
53. I also recall the last time I saw this airline was in London as well.
54. Unlike Gatwick, this photo was not taken from a bridge. It was from their observation deck, which was a box that sticks out of the main terminal building with windows on 3 sides.
55. I came back later that day for the flight back to Singapore. I spotted this Indonesian carrier parked at the gate .. perhaps for the night?
56. Has anyone spotted a China Southern A380 yet?
57. September 25, 2009 - Things quieted down until fall came, and it was time to head to Europe again. Here's the plane I will take from Hong Kong.
58. Air New Zealand used to fly this route with 747 as well, but they downsized as the economic downturn bit.
62. Bye Bye HK!
63. London Heathrow never disappoints. Here, I found the same airline with 2 different liveries side by side.
64. September 26, 2009 - London Stansted is getting a bit boring with way too many Ryanair and easyJet airplanes. But on a nice day, it's still interesting to capture them.
65. September 28, 2009 - Here in Seville, it was time to capture some Iberia planes which I don't see in Asia at all!
66. Then back onto a Ryanair plane to somewhere else in Europe!
67. October 9, 2009 - Northwest comes into mind when I think about old planes ... a big fleet of old planes that is. I think this type of plane is getting rarer among the passenger jets these days. Here's one in Amsterdam!
68. October 10, 2009 - London Heathrow also gave me a chance to spot 3 A380 (all different airlines) planes on the same day.
71. Comparatively, this guy is a bit too skinny.
72. Ahh ... Air Transat ... the airline that landed in the Azores with no fuel left, and a charter carrier I flew with once across the Atlantic. It was tough to last 8 hours without PTVs!
73. It also has been quite some time since I flew a jet this size. Wonder if they were scared to see a 747 next to them?
74. Goodbye BA land!
75. October 25, 2009 - My long-haul trips came to a glorious end for 2009. The focus changed during the last few months of the year with a series of short flights. Let's start with Hong Kong again.
76. Air Macau doesn't serve Hong Kong at all, but they're doing a lease flight for a mainland Chinese carrier.
79. The destination of the day was Manila.
81. I repeated this itinerary the month after, and spotting the A380 in Hong Kong.
83. It really is a whale!
85. November 22, 2009 - For Kai Tak fans, there is a place where you can see planes descend above the city and land in a city centre airport. That's Taipei Songshan.
87. An army drop?
Airports Visited in 2009
Changsha, Hong Kong, Beijing, Singapore, Kuala Lumpur, Seoul Incheon, London Heathrow, Toronto Pearson, London Gatwick, Helsinki, London Stansted, Seville, Frankfurt Hahn, Amsterdam, Manila, Taipei Taoyuan, Taipei Songshan, Shanghai Pudong
London is always an exciting place to spot airplanes. The sheer variety of liveries is quite perplexing but it's not an easy spotting airport. There are windows in many places but I wish there was an observation deck with a wider view. But if I can locate a good spot to see taxiing planes, which I know exists at the various terminals, then I'll be a very happy camper.
Helsinki offered a glimpse of many smaller aircraft which I normally don't see often at the larger airports. It reminded me of Copenhagen, but the airlines were very different.
Hong Kong always has a big share of large jets. Mindful of the aging 747 fleet, I am on a mission to capture as many of these as possible before Cathay decides to retire them or turn them into freighters. If I get a chance to fly Cathay this year, I will most definitely try to get more interior shots!
My flight report gallery : http://www.globalphotos.org/flightreports.htm