2010 Flying & Plane Spotting Showcase

1. ANA : Shanghai Pudong - Tokyo Narita


Easter redemption flights are hard to come by, but Star Alliance was able to come up with a connecting option via Shanghai. Pudong's terminal 2 looks quite sleek, and has good window space for some plane spotting.
2. ANA's meal was absolutely delicious. It didn't look much different from other airline meals, but I thought the taste was up-to-speed with business class catering.
3. While it was a fairly short flight, it was still nice to have PTV's on this 777, which was clean and in remarkably new condition.
4. ANA : Tokyo Narita - Shanghai Pudong


Narita is a horrible airport to reach from the city. While it is connected by express train, the journey takes an hour and a half from the western part of the city. Although I tend to check-in at the last minute, I still had to take the 6:50am train for my flight departing 3 hours later.
5. My right window seat paid off. Tokyo came into full view soon after take-off.
6. Then Mount Fuji ...
7. We flew right above Osaka, but the Kansai coast was still visible.
8. Shanghai Airlines : Shanghai Pudong - Hong Kong

China Eastern and its codeshare partner, Shanghai Airlines, are not known for punctuality. My inbound flight was cancelled and I was moved to a China Eastern flight automatically without notification. The outbound flight was delayed as well, so I had a bit more time to explore the older terminal 1.
9. While the aerials looked pretty, it was a very bumpy flight to Hong Kong. For some reason we stayed below the clouds for much of the flight, and we bounced around indeed, at times quite scary.
10. Qatar Airways : Hong Kong - Doha


It was my first time flying on Qatar, and it was a long 9-hour flight into Doha. Given it was the cheapest option to reach Switzerland and with an open jaw return, I had to put up with the extra flying time and a transit. Their service was quite good actually, with courteous flight attendants, decent food, and a bountiful entertainment system.
11. Doha's airport is a relic from the distant past, and wrecked my impression of Qatar Airways. Their washrooms were not fit for human use, and the terminal was packed and had few amenities other than an overcrowded duty free shop. But premium passengers would not need to put up with this Third World experience - they were sent to a dedicated terminal away from the rest of humanity.
12. Qatar Airways : Doha - Zurich
However, boarding from the tarmac was fun, although spring in the Middle East is still fairly warm.
13. Time for a prayer.
14. Qatar Airways : Milan Malpensa - Doha


It was an afternoon departure back to Asia. With Milan being close to the mountains, the departure was quite picturesque.
15. I prefer the A330 over the 777 since the window seat was 1, and not 2, seats away from the aisle. The 777's 3-3-3 seating arrangement seemed too dense and packed.
16. By late night, I was back in Doha, with a much shorter transit time for the overnight flight back to Hong Kong.
17. The return flight was a lot shorter due the prevailing winds, passing along the Iran-Pakistan border, northern India, and China's Yunnan.
18. It was a sunny day in Hong Kong, which was perfect for an aborted landing and an aerial tour of the city.
19. Cathay Pacific : Taipei - Hong Kong

Taoyuan's Terminal 1 is quite a hole, so I opted for a walk to Terminal 2 for something more enlightening.
20. Catering on short-haul flights has deteriorated to a nasty bun these days. Hoping I could escape the bun, I opted for a vegetarian option, hoping for something a bit more appetizing. I didn't realize the vegetarian meal also came in the form of a bun, albeit a little less nasty.
21. Cathay Pacific : Hong Kong - Mumbai

Flights between Hong Kong and India have historically been notoriously full, especially in the premium class.
22. I was disappointed with the lack of food selection in The Wing. It didn't feel like a premium lounge at all, although the private working desks were quite good.
23. Due to a last-minute aircraft change, I was stuck with the old regional Business Class with reclined and not lie-flat seats. I wasn't pleased. To make things worse, the movie I watched turned from English to Korean soon after it started, and it stayed that way.
24. Jet Airways : Mumbai - New Delhi


Mumbai's domestic terminal is new and was a total surprise. It was actually quite refreshing, although the restaurant selection was minimal at best.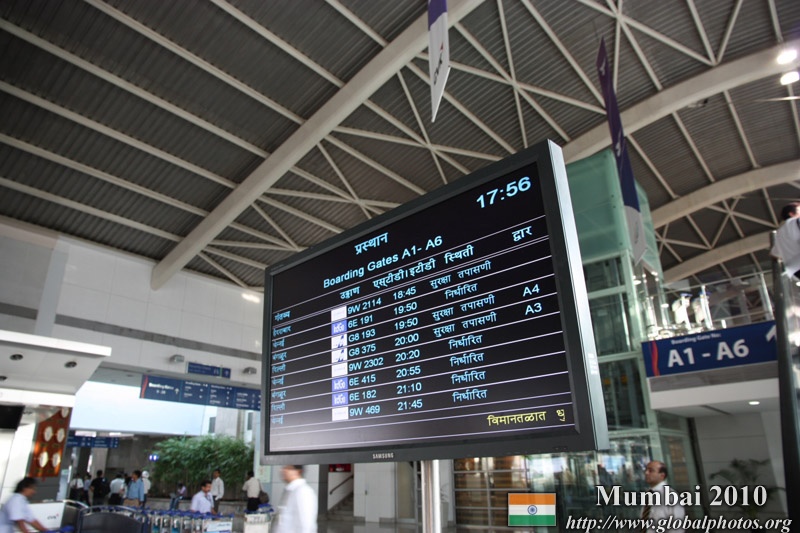 25. The down-side was planes don't park at the terminal, and everyone had to take a bus and go up a flight of stairs to board.
26. Jet Airways : New Delhi - Mumbai


The locals were nice enough to tell me to be careful with photo-taking in the terminal, perhaps due to terrorism concerns. However, I didn't think plane spotting photos would be much of a threat, and there were plenty of interesting liveries to see.
29. Cathay Pacific : Mumbai - Hong Kong

I received an email from Cathay Pacific on the day of the flight apologizing because the aircraft for tonight's flight home would not feature the lie-flat beds either. While I appreciated their attempt to manage my expectations, had I known about this I would've gone for a much cheaper Business Class flight with an Indian carrier flying a newer plane. On the bright side, Mumbai's premium lounge has vastly improved with a complete overhaul.
30. It was painful enough to fly out at 2am, let alone trying to sleep on a reclined chair.
31. The highlight of the trip was the descent over the city into the airport. At least I got some aerial shots out of this flight.
32. Dragonair : Hong Kong - Shanghai Pudong


I set a new last-minute record with this flight, booking in the morning and flying out that same evening. Unfortunately, Asia Miles tends to lock up its free redemption flights on holiday long-weekends, and only releases them at the very last minute. However, my last-minute tardiness almost resulted in missing the flight. Thankfully it got delayed an hour due to the aircraft's late arrival! The north satellite terminal looked quite good. Despite sharing the same floor between arrivals and departures, it did have a few open spots where I could reach the window for photos.
35. Cathay Pacific : Hong Kong - Seoul

Cathay's 747's are expected to retire over the coming years, so I wanted to get more chances to sit in one while I still can. However, the highlight of this day's plane spotting was a new long-haul jet for Hong Kong Airlines parked next door.
36. It is an older aircraft after all, which is easily visible from the ceiling panels.
37. Singapore Airlines : Singapore - Dubai - Cairo


Terminal 3's design is very warm and comfortable, with plenty of indoor vegetation. Sadly, the plane for tonight's flight was far less welcoming.
38. 7 hours in the air later, it was time for a short pit-stop in Dubai. I chose to stay onboard while the plane was cleaned and prepared for the next 3-hour leg into Cairo. I should've opted for a walk in the terminal though. Upon departure, Dubai's skyline was in full view set amidst the sunrise. Burj Khalifa is really tall!
39. The Saudi landscape was quite interesting, with a mix of vegetation, desert, and badlands.
41. Then the Suez Canal came into view in the distance.
42. Singapore Airlines : Cairo - Dubai - Singapore


Cairo's airport is a new construction and looks quite decent. Like in India, there was a security check before entering the terminal itself.
44. A nasty sandstorm covered Cairo that day. Luckily, it was still safe to fly. Quite a contrast from the clear skies the day before, when I spotted the Pyramids at Giza from the Citadel.
45. This time, I got off the plane in Dubai and explored the terminal while other passengers headed for the duty-free.
48. The passenger lounge is once again separated from everyone else by a glass partition and a ticket check, making plane spotting right by the window impossible. However, I guess most of the planes would be Emirates anyway.
49. Singapore Airlines : Singapore - Hong Kong


After a long flight from Cairo on an old 777-200 with its peanut-sized TV and woefully inadequate in-flight entertainment system , the newer Economy Class configuration was greatly welcomed on this 3.5-hour hop to Hong Kong.
50. Xiamen Airlines : Hong Kong - Xiamen


It was a short 40-minute shuttle flight to Fujian on a 757.
51. I was surprised they served a hot lunch even though the flight was 40 minutes long. The rice was meant to fill up the stomach, and it did its job effectively.
52. Xiamen Airlines : Xiamen - Hong Kong


While I wasn't particularly impressed with the arrivals area, the departures floor looked much better. Xiamen isn't a very big city, and the airport was quiet as the sun set.
The Master List (in chronological order)

HKG - PVG
PVG - NRT
NRT - PVG
PVG - HKG
HKG - DOH
DOH - ZRH
MXP - DOH
DOH - HKG


HKG - TPE
TPE - HKG
HKG - BOM
BOM - DEL
DEL - BOM
BOM - HKG
HKG - PVG
PVG - HKG


HKG - ICN
ICN - HKG
HKG - SIN
SIN - DXB - CAI
CAI - DXB - SIN
SIN - HKG
HKG - XMN
XMN - HKG