2014 was a record-setting year for my travels. I flew the most distance ever, and my year got to an exciting start with a trip into China's remote mountains.
Sichuan
I first landed in Chengdu, characterized by smoggy winters, which has enhanced the sunset while damaging your body.
Many Chinese cities now have new metro systems. This is long overdue for Chengdu, which has a population of 14 million.
However, the city is not really that densely-packed.
I am not a big fan of historic re-creations, which seem popular here as commercial developments.
What interested me more was the glacier. It took a long journey to reach Hailougou but the mountain scenery was worth it. The cloud cover gave way soon after.
Altitude sickness kicked in badly at the top, and I was ill-prepared. I ate some chocolate and slowed my motions but the classic symptoms were kicking in. Perhaps I am not ready for Tibet yet.
To beat the cold, Sichuan is famous for its numbingly spicy foods.
Penang
This was a cheap trip thanks to low-cost carrier Hong Kong Express, which still had very reasonable fares for Chinese New Year. Full of history at every street corner, I felt like I went back 40 years ago.
Low-rise shophouses dominate the historic centre, a UNESCO World Heritage Site.
Chinese temples showcase the influence of migrants that have come here from afar. Malaysia has a sizeable Chinese community.
Step into one of the old bourgeois' homes and you can see they lived in relative comfort in this tropical paradise.
Lijiang
My friends wanted to explore a historical place for a few days as a long weekend outing. I quickly jumped on the idea of visiting Lijiang, which I expected would be a classic historic town untouched from modernity. However, much of it has been reconstructed and the hordes of tourists have destroyed the ambiance. I needed to set out early in the morning to get a piece of the town to myself.
There is a lot of tradition still on the streets, but from a more commercialist point of view.
Canals were designed to wash away dirt using mountain run-off.
It must have been a great engineering feat to build a cable car up here and the observation platform. Altitude sickness kicked in at these altitudes, but with the oxygen canister, I made it fine.
The boutique hotels here are quite interesting and cozy although they costed more than in other large cities.
This is the postcard view. Some building owners in the old town open their roofs for visitors at a nominal charge. There is also a hillside path that offers views. Both are worth a visit to see the traditional, albeit rebuilt, rooftops.
There is a recommended cycling route for the towns outside Lijiang. The ride was nice but there was a lot of traffic on the narrow roads. We gave up the final stretch and took a taxi to a beautiful mountain, with oxygen canister on hand. Get here a bit early, since they were ready to expect their last visitors at around 3pm.
Chongqing
This is a civil engineer's paradise. The city seems to be able to grow through mountains and valleys with incredible density.
Unfortunately, the geographic setting also makes this city prone to fog. It would look stunning under blue skies. The buildings look very gritty, but nevertheless enhanced by the natural setting.
New metro lines may render this unique mode of transport obsolete soon. They have already closed the cable car on the other side of the CBD, and there actually is a metro station within waking distance of this stop.
Let's see how this city turns out in a few more years.
The central business district is under construction with lots of new skyscrapers and neon.
Meanwhile, were these former residents left behind from the riches?
I made the mistake of taking the metro all the way from the airport, which took over an hour when taxis were not expensive and made the journey in 1/3 of the time.
Hokkaido
I redeemed a free reward flight to Hokkaido for a few days, but soon I realized why the airline released seats. It was the wrong time to visit. The flowers were still dead and snow made its last debut of the season. Thankfully, the hotel was cheap and the food was great.
Exhibitions highlight tensions with Russia over territorial disputes that arose from World War II. Don't think they can make the Russians budge though. They also showcased local products, such as seafood from its rich waters.
The tourist season had not really arrived yet, but I was too late for the snow festival here.
As usual, I looked for vantage points from above within the city and also outside.
This would be the perfect place to use the bathroom and hog over the urinal.
The view from Mt. Moiwa was a bit odd. Facing the city were thick clouds, but the opposite side was clear. Right above me was the transition zone.
It wasn't a warm evening, so I huddled inside to heat up enough to sustain a few photos outside. Repeat.
Hokkaido is surrounded by ocean and I could not emphasize yet again that the seafood is great!
Otaru was once among the top Japanese ports in the late 19th and early 20th centuries and can now be reached as a day trip.
The beer in Hokkaido is also famous.
Sapporo has a small tram system that doesn't really hit many of the tourist sights and it does not reach the main railway station. This is the end of the line.
Train enthusiasts would also be very happy in Japan. There are many railway museums throughout the country, including this one in Otaru. It was a long walk from the main canal area but well worth the journey.
It was a long train ride to Hakodate, which is at the southern tip of Hokkaido. There were lots of tourists huddled at the top of Mount Hakodate for the sunset view, and for good reason.
They were a bit silly to have lined up in hordes for the cable car when there was also a bus that had seats. I obviously chose the cheaper bus option.
This is a hilly city, so views are everywhere.
Construction of the Old Public Hall began in 1909 and was completed in the following year. It is not a particularly beautiful building but the location is great.
The plebian class would be more interested in the warehouse district downhill.
I finally gave in and tried an expensive cooked seafood dish. It was worth 500 yen.
Too bad the cherry blossoms were a few days too young for my arrival.
Phuket
It is a nice place to relax but Phuket is a bit overrun by tourists and prices here are not cheap.
I hope these are real elephant sanctuaries where my ride will save a few, rather than fuel a poaching trade.
Rome
I have travelled extensively around Europe all these years, but had purposedly avoided Italy fearing pickpockets and other criminals that people often talked about. Milan and Cinque Terre started to change that perception, and after visiting Istanbul and Moscow, I finally decided it was time to see Rome.
Churches are EVERYWHERE and they are all crazily and beautifully decorated.
There are monuments everywhere. Unlike the stories that I have heard, no hordes of pickpocketing kids were in sight.
With the city being so lowrise, it is easy to get some panoramic views.
Rome is full of ancient history. However, given the time, it is hard to imagine what this looked like, but it must have been grand.
May is a good time to visit Rome. I had great weather, the temperatures were still cool, and there were no nasty lines at the Colosseum. Circling the top floors, you can get vantage points with nobody in front of you.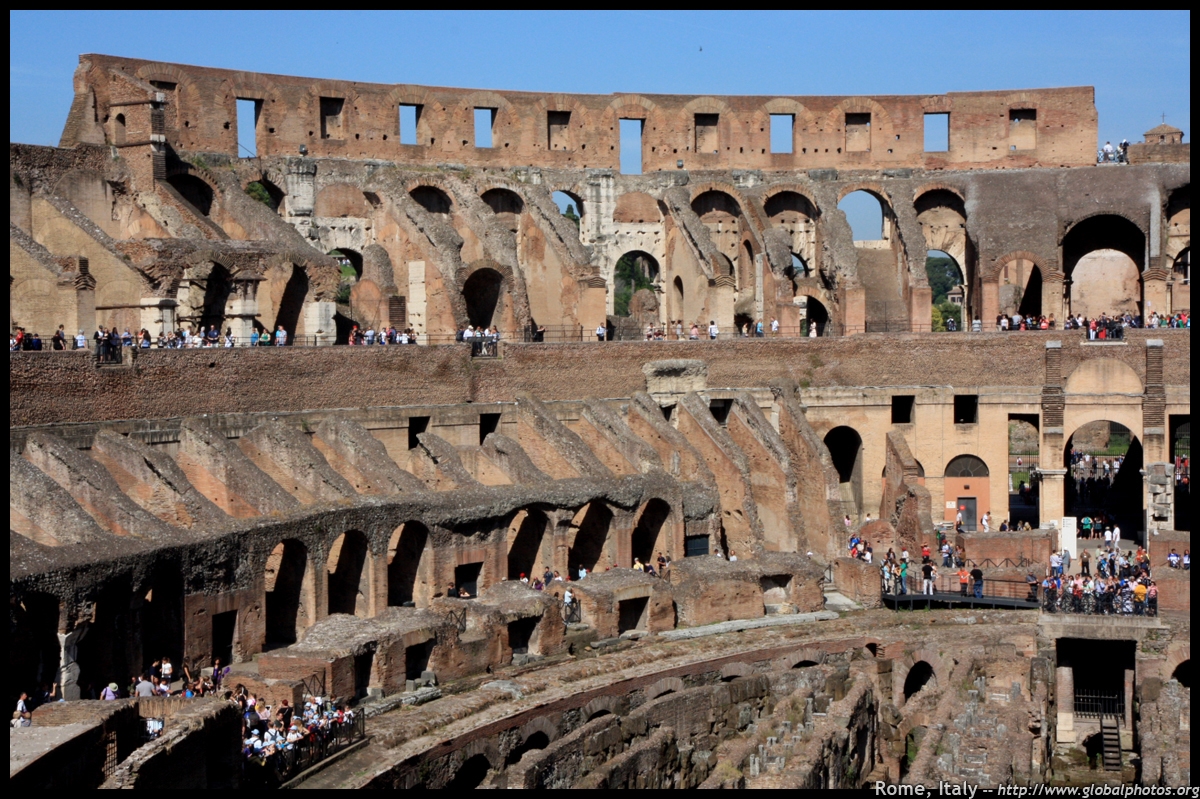 The Vatican is an amazing place. I budgeted an afternoon here. However, I couldn't help but wonder why the church would have so many treasures behind its walls when it should be helping others? Perhaps without the corruption of yesteryear, we wouldn't be able to see all this today.
Athens
After a few days of long walks, I arrived in Athens expecting the same type of gruelling tourism. Interestingly, there wasn't so much here to see, but my Greek itinerary was focused on the islands anyway, and to take advantage of cheaper prices in the current downturn.
The airport is quite far from the city even though there is a metro connection. Rushing out of the station, we rushed up to admire this amazing structure.
A single ticket admitted me to many historic attractions in the area.
Greek Islands
Santorini is a great island to drive and explore some less-visited towns and historic sights. A winding way uphill is far better conquered in a motor vehicle than by foot. I wonder how many hours it would take for the hikers to reach here?
There is a lot of natural beauty as well. The island is not that big so it doesn't take long to drive around the sights.
I also did some exercise, walking from Fira to Oia, a good 4-hour trip with photo breaks everywhere. The best things in Greece are often free.
This place is reknowned for sunsets and they did not disappoint!