2014 Flying & Plane Spotting Showcase

Chengdu - Hong Kong


Flying in China's skies is stressful these days. But none of that seems evident at Chengdu airport's international section. In fact, don't bother to arrive early. The counters don't even open until fairly close to departure, and the lines never got that bad.
The terminal looks new and is quite bright.
Sichuan Airlines calls this airport home.
Penang - Langkawi

After reading some reviews of the ferry and unable to secure tickets during the busy Chinese New Year travel peak, I decided to try Firefly's short 40-minute flight to Langkawi. The price was not too bad and it would be my 3rd turboprop ride of my life.
Penang's airport is modern and small enough not to get lost.
Boarding takes place on the tarmac. There are dedicated tarmac gates downstairs. Reminds me of Angkor Air in 2013!
This cabin looked a lot more sleek. It's still a cramped cabin but offset by the modern furnishings.
I got a few aerials but was on the wrong side to capture George Town.
It's an uneventful flight, and soon enough, we were descending into sunny Langkawi!
Penang - Hong Kong


Penang's airport is a bit far from the city and not so easily accessible. Thankfully, my friend gave me a lift and I got to catch a lion dance for Malaysia Airlines!
Today's flight was slightly delayed due to the inbound. I wasn't too concerned since vacation as over and I was heading home.
Sunset against the city was quite pretty.
Upon arrival, it was a staircase arrival. I thought they would just use the satellite terminal but that still required a bus ride anyway.
Lijiang - Chongqing


Lijiang's airport is surprisingly large for a small city, but given the tourist traffic, it is not surprising.
Fancy some traditional medicine shopping at the airport? This part of highland China does have a few famous crops used in traditional medicine.
Yes, we departed late. But the highlight of this short flight was the severe turbulence that hit the aircraft upon take-off The crosswinds were incredible and we bounced around badly for a very long time, to the point where the crew came on the PA to remind passengers where the emergency exits are. Yet outside, it is a clear day.
Once the air stabilized, I browsed the literature a bit. Lijiang is in the SW corner of the country.
Chongqing is famous for its lack of sunshine, and today was right on forecast. I was surprised the flight path went right above the CBD though.
A bit shattered from the severe turbulence, I arrive in cloudy Chongqing making yet another mistake - taking the subway all the way to town. An hour and 15 minutes later, I emerge at my hotel, completely exhausted.
Chongqing - Hong Kong


International flights operate out of a separate tiny terminal in Chongqing. But kudos to the quick processing queue.
With a huge window over the tarmac and also the runway, I could do some plane spotting.
Plug and play?
Hong Kong - Sapporo

May is not the prime season to visit Hokkaido. The snow is almost gone but the flowers haven't come out yet, hence Cathay has redemption seats available. Nevertheless, this was my only time frame to go so I took advantage of the free seat to ride the 747 one more (last?) time.
Construction of new terminal facilities is well under way.
It's a 5-hour flight, so I made sure I flew on a full stomach.
The skies got bumpier as we progressed west of Honshu and the captain had to try a different altitude to calm things down.
Hakodate - Tokyo Haneda

The train from Sapporo to Hakodate was not cheap, so I didn't want to backtrack and head home from Sapporo. Avios showed some availability out of Tokyo so I had to find my way there. Luckily, Hakodate is served by JAL and it was a cheap Avios redemption of 4500 points.
Hakodate's airport is very small but close to town. In fact, I could even see it clearly from Mount Hakodate. A coach makes the trip in about 15 minutes but at a very weird schedule with big blocks of gap time in between some services.
Japan prides itself with customer service but they cannot hold back the self check-in machine.
There wasn't much activity in this small airport, so this Transasia widebody surprised me.
Shops sold quite a lot of refridgerated foods. I guess they could be packed to survive a domestic flight southwards?
I don't see airlines publish paper timetables and make them available so prominently anymore.
I recall seeing automated boarding gates in Frankfurt, but these Japanese ones are designed to let a human staff it, which somewhat defeats the purpose of automation and saving a salary.
Today's flight is operated by an older 767 but well-maintained. The radio dials do look antiquidated though.
Goodbye Hakodate!
With entertainment only available on the overhead television screens, I scanned the reading materials for something more interesting and accessible. Interestingly, they noticed I didn't speak Japanese during the beverage service. From that moment on, all announcements were bilingual. At first, I was a bit surprised why there was not a single English announcement. Even the domestic Chinese flights had some broken English attempted.
Welcome to Haneda. Arrivals and departures share the lounge area, so there was a flood of people in the terminal. I went to some windows for a gaze at the far busier domestic area.
Hong Kong - Shanghai Pudong - Rome


In the past, I relied on Middle Eastern carriers for a cheap flight to Europe. Recently, deals on mainland Chinese carriers got better, and without a detour through the Persian Gulf. China Eastern offered a wonderful deal to Rome with my favored daytime flight.
China Eastern uses the older Terminal 1 at Pudong. It is less busy than Terminal 2 so I had some time to kill before my connection to Rome. Free wifi came in handy.
I am picky with my aircraft type these days especially when I fly long-haul at the back. China Eastern uses a new A330 on this route so my window seat would not be too far from the aisle.
There isn't too much choice on the IFE so I loaded some shows onto my tablet to help pass the time.
Rome - Athens

Lots of people on the aviation forums talk about Aegean's loophole into Star Alliance Gold. I decided to give it a try myself to see what this small airline is all about. The ticket booking process was simple to do online but they charged extra for lots of standard things, just like a LCC. I thought the traditional main-line carriers are trying to shy away from this model these days to clearly differentiate their all-in pricing to be better and perhaps even cheaper.
With a short flight time of about 1.5 hours into Athens, I was surprised there was a hot meal offered, along with introductory candies. So it seems like a traditional carrier after all?
Beautiful skies mean lovely aerials - my favourite of flying.
Aegean planes park on the tarmac and passengers disembark on stairs and into buses. The process seemed a bit painful but with no immigration formalities, it is a quick walk through the terminal to the exit. There were lots of connecting passengers today, and they exited via a set of escalators just next to the terminal entrance (from the bus).
Athens - Santorini

With only a few hours in transit, I rushed out to the city to see the Acropolis. The airport is conveniently connected to the city by the metro system, although not very frequently. Soon, I was back at the bus boarding area for the short flight to Santorini.
The time it takes to go through security and waiting for the bus already equalled the flight time.
Let's take off into the sunset!
40 minutes ... yet they had time to serve another introductory candy plus this delicious cookie.
Upon arrival, the staircase was brought to the plane once again. The airport is a small and very basic facility, with lots of people waiting outside to pick up arriving passengers. Complimentary pick-up is a standard feature for many hotels on the island.
Hong Kong - Shanghai Hongqiao


Most flights from Hong Kong to Shanghai go to Pudong. But I thought of giving Hongqiao a try. With only 1 flight a day, Dragonair's departure was early enough to hopefully avoid the congestion delays, and I was right.
The duty-free catalogue is very extensive. I don't quite understand why anyone would buy a lot of these items on a plane?
Hong Kong - Mumbai

I miss Business Class, and Mumbai would be the destination today. There is a new Cathay lounge and the entrance was already spectacular.
The private lie-flat seats are nice but I am not flying overnight today. A full meal service followed but I thought the main course was too small. Luckily, the rest of the meal filled me up just right.
Hong Kong - Hanoi


My flying picked up tremendously towards the end of the year. Autumn skies are not always so clear, but with a left window, I could still spot the harbour and skyline on departure.
Although flying seems routine these days, it is always enjoyable to watch the clouds from my window.
Hanoi is very close to Hong Kong, but they still are able to serve a hot meal for the journey.
Unfortunately, this creature did not survive its journey around the region.
Hanoi - Ho Chi Minh


Flying domestic is not difficult in Vietnam. However, there isn't much to do at the airport, and the shopping opportunities air-side are a bit bizarre. Step back in time.
Grab a seat and wait. Don't get to the airport so early.
I picked this Vietnam Airlines flight specifically because of the widebody. The Economy Class seats looked a bit tired, and had the old small PTVs. It was going to be a short flight anyway so I didn't mind.
Once again, we are spoiled in Asia. For tonight's short flight, a small hot meal is also included. However, it was not enough by any means.
The annoying part was the staircase arrival. Good that it wasn't raining!
Hong Kong - Bangkok - Colombo

With so many Cathay lounges in Hong Kong, I wanted to find where to get the best food. The selection will never match the 5-star restaurants in town, but enough for a quick bite before a more fulfilling meal on board.
Today's flight to Colombo via Bangkok would be my first experience on the new Regional Business Class. You don't get your own boxed seat but need to climb over our neighbour to reach the aisle. The hardware is actually quite good, with a big fold-out table and a cell phone holder in front of you. The TV screen also looked more sleek.
We had a short stop in Bangkok, during which Colombo-bound passengers stayed on board as Thai airport staff came to refluff the pillows and clean the cabin.
I think this configuration makes sense for shorter regional hops but not red-eyes.
Colombo - Hong Kong

The Colombo red-eye is not long enough for a decent night's sleep. Add to that you get a full meal after take-off so it is hard to sleep with so much good food digesting inside.
The lounge is nothing to brag about, but at least it is stocked with the premium local tea bags.
Arrivals and departures share the same corridors. The airport authorities were smart enough to put 2 long-haul departures next to each other and not enough scanners to process the flights.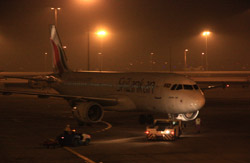 In Business Class, you get good food to fill you up very nicely.
Hong Kong - Nagoya Roundtrip


A few days after my Business Class flight, I had to change expectations and board a low-cost carrier to Japan. Instead of a full meal, I bought a rice that wasn't big enough, but sufficient to survive the 3-hour flight. Unlike Ryanair and easyJet, you are not allowed to consume outside food on their aircraft.
Nagoya is a quiet airport for a city of this size.
Typical of Japan, there is no shortage of cute characters.
With China being so close, would their new 747 fly here or go long-haul?
Hong Kong - Mumbai


Disappointed that Cathay had ran out of seats, I reluctantly tried Jet Airways rather than move my travel dates. They use the Plaza Premium lounge at the end of the people-mover, which has been renovated and a bit quieter than the Cathay lounges. The food selection was decent and I had a satisfying quick bite. So far so good.
The Business Class seat faces to the aisle and you don't need to climb over anyone. It was spacious with the standard entertainment set. However, the configuration did not consider when the passenger across from you turns on the reading light, the light will be able to travel across the aisle and shine against your face.
Jet takes its catering very seriously. Although a bit slow, the crew took great lengths to set your table properly and serve your food in actual decent cutlery. I have always disliked Cathay's Economy-like plates used for Business Class meals.
The TV screen is quite nice, too.
Mumbai - Hong Kong

Mumbai's new international terminal is quite stunning. There actually aren't that many infrastructure success stories in India, given the roads leading to the airport are still mediocre, which makes this place a pleasant surprise.
These cocoon-like chairs are most impressive. Being next to the premium check-in area, they were usually deserted.
There is a new contract lounge for premium passengers, which opened after the new terminal was commissioned. The food choices were OK but the highlight was the lounge design. Too bad it was a bit crowded from so many international red-eyes.
There are also a few food choices outside, and some last-minute shopping opportunities. It was nothing like the duty-free stores in Australia or Japan though.
The gate areas are dimly but tastefully lit with good attention to details.
This trip is a bit too short for a decent night's sleep, especially when I opted for a full dinner including the cheese plate at the end. It was good food though.
I also miss this amenity kit. The bag could be easily re-used for my other travels.
Bangkok - Yangon


AirAsia indeed has made travel ever more possible. For a dirt-cheap fare, I woke up early for the short hop to Yangon. Don Muang is not exactly a world-class airport to praise about. It was functional, and you have to navigate through crowds and lines to get what you need. Leave more time before departure to cater for the unexpected.
Plane spotting isn't so interesting here with AirAsia dominating the scene.
When flying low-cost, fill up before you board.
My flight today would be on a fairly new aircraft with leather seats. The skies were clear so views from my window were lovely.
Yangon doesn't get too many international flights, so immigration and luggage were a breeze and there were plenty of money-changers at the airport to get kyats.
Yangon - Bagan Roundtrip

I've read that getting domestic plane tickets in Myanmar is a manual affair, going to the office upon arrival in the country and getting a paper ticket. Air KBZ bucked the trend and offered ticketing online, and also credit card payment. The airport check-in process is still stuck in antiquity though, but at least was speedy.
It only takes 1.5 hours to fly to Bagan. A light snack was served, which was much needed for the early morning departure.
In these relatively quiet airports, you are land-side and ready for taxi pick-up minutes after arrival.
You feel like you have gone back in time - manually-written boarding passes, boarding stickers, and schedules on whiteboards.
Hong Kong - Bangkok


With so many member carriers in Asia, Star Alliance makes it easy to redeem a long-haul flight even during busy holiday periods. I suppose going to Europe at this time of year isn't really the best thing to do weather-wise, but Cathay was being stingy on releasing their inventory so I had to go for this 1-stop alternative via Bangkok.
At such an early hour, this Air India 787 woke me up.
My round-the-world itinerary begins.
Bangkok is only a short 2.5 hour flight away. Today's breakfast consists of the typical Asian noodle but with a Western yogurt.
The hardware was comfortable for a short regional flight.
It was a sunny day in Bangkok as well, and I got some decent aerials during the descent. More better aerials of the city centre to come later.
After an uneventful flight, I had a few hours to kill before my connection to London. I decided to go out and explore the city. However, I didn't budget a long walk to immigration first. After enjoyable and quick processing in Dalian and Yangon, I'm not so good with navigating big airports anymore.
Bangkok - London Heathrow


I prefer day-time flights to Europe since I'm not good at sleeping in Economy Class overnight. This itinerary was particularly interesting because it included the elusive Thai A340. They don't have too many of these birds in their fleet.
It was a mad rush back to the gate for the lunch time departure to London. From immigration, it was a long walk to the fringes of the terminal. Luckily, I made it.
We took off toward the north, then west, but the haze made it difficult to spot the city centre.
Unfortunately, not long after take-off, I noticed the fuel dump from the wings. I guess we were not going to London today.
The captain then came on the PA announcing there is a technical fault and our A340 would need to dump fuel and head back to Bangkok. Great ... a long delay and potential stranding today. We made many loops as the fuel fell out of the sky and eventually passed Don Muang and the city centre on the way back. At least the aerial views were nice.
We parked at the far end of the tarmac and took buses back to the terminal. During the descent, I overheard a crew mention they were preparing another plane for us and should be able to board soon. We were held at the bus gate and patiently waited for boarding once again.
I must say Thai did quite a good job getting the spare plane ready and having us board not too long later. They didn't make too many announcements but there was a big sign at their desk so we were adequately informed.
We took buses back to the far end of the tarmac to board a spare A340 to try again. I was surprised they had so many A340s available. We took off over 3 hours after the original departure time, but ended up landing in London with a not-too-nasty delay. Kudos to Thai for their quick organization work!
I recall from my past experience using Heathrow that much of it is old and rickety, and since then I started transferring in Frankfurt, then through the Middle East. I was pleasantly surprised that the new Queen's Terminal was so lovely.
London Heathrow - Montr?al

I was only in London for a night to meet a good friend and to see the new skyscrapers that got Prince Charles very concerned. Soon, I was back at the Queen's Terminal to head across the Atlantic. This terminal is used by Star Alliance carriers. To presumably save labour costs, passengers now need to line up 2x. Check-in consists of getting your paper documents at the kiosk followed by another line to drop your bags. Great, Star Alliance, for increasing customers' hassle and inconvenience.
Otherwise, the facility is new and quite nice. There are some far-away gates that require a very long walk through a tunnel though, so watch your time!
London is a great place for plane spotting.
Today's A330 has been refurbished with comfortable padded seats, PTVs (although the entertainment selection is still mediocre), and may favourite seating configuration.
Instead of giving and collecting the clunky headsets, Air Canada gives disposable ones although you can keep them for after the flight.
Food was also quite decent as well. Once again, the daytime departure helped and I got to enjoy a lot of lovely views out of my window.
Once we hit North America, the ominous signs of a cold winter were everywhere.
Wait a minute - there was a 2nd meal for a 6.5 hour flight? The sandwich was also delicious.
Air Canada does give some surprises every now and then.