2015 Flying & Plane Spotting Showcase Part 2

Hong Kong - Mumbai
12 July

The Bridge stretches long with several open lounges but had very few of the private cabana chairs like at The Cabin. I ended up sitting at the long bar, where the server didn't bother to ask me what I wanted to drink and she didn't know how to make alcoholic drinks anyway.
They gave me yet another useless and not re-usable amenity kit to add to my big collection. I miss the agnes b bags.
Cheese has become my favourite dessert when flying.
I noticed a few weeks earlier on the way to Sydney that the A330 J seat seemed smaller than the same on the 777.
Mumbai - Hong Kong
16 July

I am quite fond of Mumbai's new international terminal. It is very well done and finished to a very high standard. It is one of the rare infrastructure success stories in India, unfortunately.
I never got to ride the tuk-tuks in Mumbai. I was fortunate enough to take hotel cars during this stay in Mumbai. But this one looks nicely dressed up in a shop.
All the airlines use the same contract lounge, which is nice but not so private with so many passengers flying internationally at this hour.
5 rupees of deliciousness. If the price label wasn't printed on the packing itself, it would be a good souvenir.
Another amenity kit ...
This is the end of my short India trip, and to finish off, how about an Indian breakfast?
The skies were not too nice to take aerials of the skyline. I had the correct window seat, but I cannot control the weather. Sai Kung looked great though!
As we landed, I took note of Hong Kong's changing landscape. This will be the boundary facility for the new bridge to Macau.
Hong Kong - Singapore
26 July

I have not been consistently lucky with upgrades. Check-in was smooth as I was dropping my bags only. No surprises then. The famed red-screen error came at boarding and I was upgraded to the regional Business Class today. I guess Cathay saved a lounge pass with a gate op-up.
Darn, no aerials today - we are taking off towards the west.
The new bridge to Macau is taking shape.
Fluffy clouds ...
Congee is great for breakfast but the rice flour noodle didn't look like dim sum.
There was a lot of construction during descent above Malaysia.
Arrivals were efficient and I hopped onto a taxi within 20 minutes of the doors opening.
Hong Kong - Seoul
18 September

I was a bit surprised at the seat map when I checked in online. Today's flight would be on a 747, which is used for regional runs these days and are slowly being retired from Cathay's fleet. I secured a wider seat at the back of the plane where the configuration narrows from 3 to 2 seats. This is my favourite spot on the 747's economy class.
Hong Kong is in a constant state of rapid change. Every time I fly out, there is more visible evidence of the new bridge to Macau.
Breakfast is served. I opted for a lighter congee. The size is appropriate with bread, yogurt, and fruits on the side. This isn't the multi-course feast in Business Class that I enjoyed 3 times before, but I need to re-set my expectations being at the back of the plane.
It was a lovely day, and the aerials over the west coast of Korea were spectacular.
Hong Kong - Shenyang
25 September


My first time flying China Southern, which has a fairly small presence in Hong Kong but is the anchor airline at nearby Guangzhou. The narrowbody flight to Shenyang was uneventful. The food was OK and seemingly better packaged than expected.
Shenyang - Pyongyang
26 September

My flight of the year came the next day. I'm flying to North Korea on their national airline - Air Koryo.
There was a huge crowd at the Air Koryo check-in desks. People were carrying massive amounts of baggage, boxes, and the like. There didn't seem to be limits being enforced. The North Koreans each had a red pin affixed to their clothes, so were easily identifiable. They were well-dressed, as the rags and riches classes probably can't leave the country anyway.
Today's Air Koryo Tupolev was parked at the edge of the terminal, and positioned in such a way that it was impossible to get a decent side shot. I wonder if they did this on purpose?
All the flight attendants were tall young ladies who smiled and greeted in Mandarin. My first impression was quite good and the plane was fairly new. As boarding continued and they turned their attention to others, I happily took photos of the back cabin. There was a very small Business Class up front and behind it are 2 cabins of Economy Class.
I helped myself to some literature at the gate on the way in, but I should have been more aggressive and grabbed every kind, not just 1.
Some curious tourists tried to take photos of the flight attendants, but they had good vision and came by to ask to check your photos and request the offenders to delete them. This would continue throughout the flight.
You don't get Coke, Pepsi, or their friends here. I tried their local interpretation of soft drinks, which tasted very plastic-like. All this was served with a modest smile and the flight attendants asked you softly in Mandarin. The service was not bad at all - most certainly not a 1-star carrier.
Meanwhile, I took some time to capture the skies over North Korea. The land seemed quite fertile with plenty of vegetation. I doubt they could have staged all this along the flight path to impress visitors flying in.
Pyongyang was also sunny today, and I was very excited to see so many Air Koryo planes around and the new international terminal!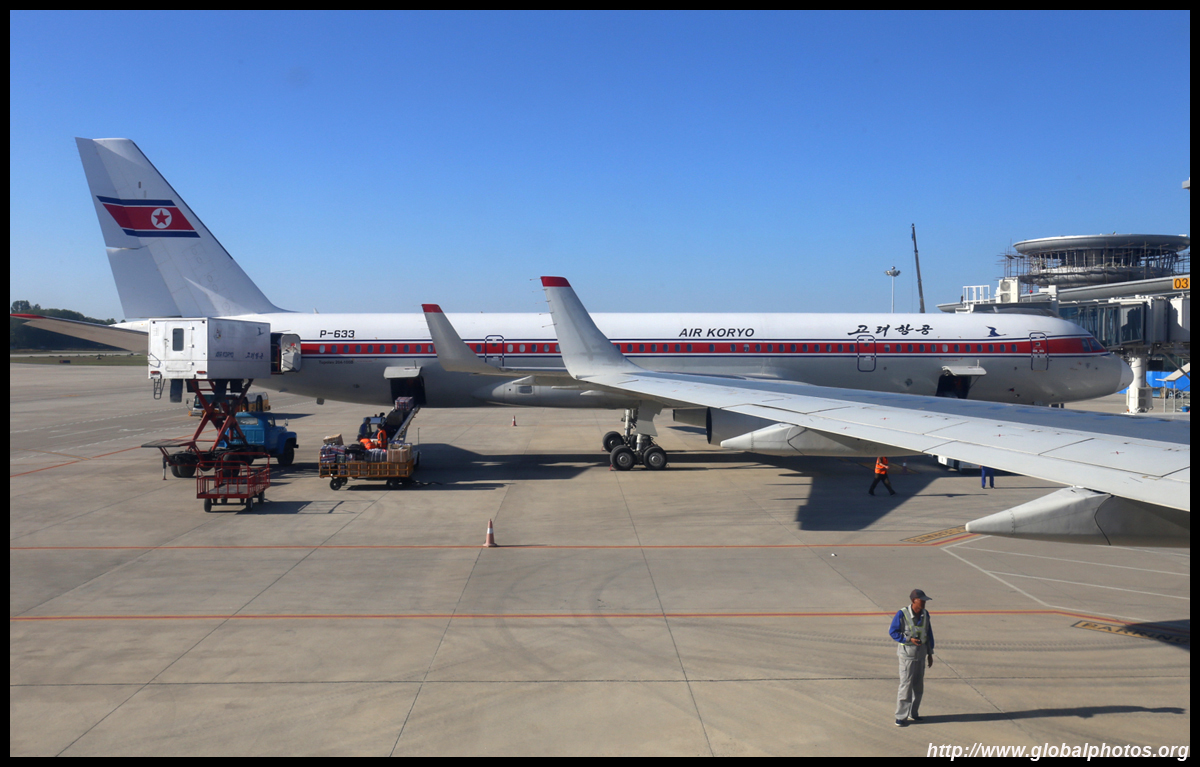 Pyongyang - Shenyang
30 September

Time to head home. The airport wasn't crowded and there were few flights departing, so I had time to take some photos of the new terminal.
This cart came around offering snacks. Great service!
Plane spotting here was very interesting!
Goodbye North Korea!
Back in Shenyang, the airport terminal is quite nice and worth a few photos as well.
As I waited for my next flight back to Hong Kong, Air Koryo was ready to head home as well.
Shenyang - Hong Kong
30 September


This afternoon, I'm on a fairly new plane with slim seats for the last leg of my North Korea tour.
Osaka Kansai - Hong Kong
6 October


I went to Japan for a break from North Korea using my miles. The surprise came in the middle of the night when I received an SMS that my flight has been cancelled. After a few calls to Cathay's English call centre, which didn't seem to be able to understand why I needed to rebook and forgot to apologize for cancelling my flight, I finally got bumped to the next day's first flight and got only a few hours of sleep. Thanks for being a premium airline.
Hong Kong - Fukuoka
31 October


With a lingering bitter taste from my cancellation, it is no longer necessary to fly a premium carrier to Japan. LCCs offer plenty of choice at decent prices. So off I go, boarding a Hong Kong Express flight from a bus gate to Fukuoka.
For a LCC, I'm surprised their duty-free selection is quite extensive.
I was lucky to get some decent city aerials on approach.
While Fukuoka's airport is only a short subway ride into the city, it is an annoying bus ride from the international terminal to the domestic one where the station is located.
Hong Kong - Kuala Lumpur
6 December


The SMS woke me up with a delay notification of 1 hour. While I appreciate the notice so I won't need to waste time at the airport waiting, it would likely mean I'll miss the sunset photos in a KL rooftop bar later that day. The cancelled flight from Osaka still resonates in my mind.
The airport signs have changed. I had never seen a hot water sign before. Perhaps it is because so many mainland Chinese fill up their water and tea bottles after security.
In addition to the time change, the gate also changed to 70 - the furthest in the terminal. I took the opportunity to walk along the length of it to look for interesting birds.
Some of the gate signs have been decorated for the Christmas season. Subtle, and not overdone with an army of cartoon characters.
With Cathay's rebranding coming, I need to capture the current livery before they disappear.
Economy Class has a small cabin of a few rows ahead of the second door. I used to book the smaller back cabin when flying Business Class, but I didn't realize cattle class had something similar. The area is a bit cozy and didn't seem as crowded as out back and there was very good legroom. The A330 is configured 2-4-2 so being at the window, I didn't feel claustrophobic when I need to venture out to the bathroom.
Tropical skies are a bit unpredictable during the late afternoons. Seems like a storm is brewing.
Surprise surprise! A special livery Saudia in KL!
Kuala Lumpur - Hong Kong
11 December


Kuala Lumpur's airport used to be the first real new facility in Asia, but time has ravaged this facility and now it is a dirty, a bit boring, and not pleasant to use anymore. The spotting was abysmal, although there is a dirty observation deck to see the movements.
Thanks to another delay by Cathay Pacific, I had some time to kill. I headed over to the controversial new budget terminal - KLIA2. It is connected by a cheap train ride and upon exiting the gate, I was impressed by a cozy building with lots of restaurants and shops.
Looking at the crowds and long lines, seems like the terminal is fully utilized already.
Happily satisfied with my tour, I boarded my delayed flight, and ate a cost-cut meal with no vegetables but plenty of rice.
Hong Kong - Abu Dhabi
18 December


Christmas in Asia is a time to travel. Europe traditionally isn't a great place to visit during this time of year, with late sunrises, early sunsets, and unpredictable weather. I originally didn't want to travel so far, but Etihad offered a great fare and A330/A340 airplanes all the way into Germany.
Today's aircraft is painted in new colours and the A330 seat included a power plug and USB charger. Each seat already had a headset, neck pillow, and blanket in a green bag.
There was an announcement on the multinational flavour of the crew, but nobody spoke Chinese. The crew was inexperienced and slow, which was surprising considering the other big Middle Eastern carriers are famous for great service. They seemed to have been shipped out from Eastern Europe with barely enough training to fly. Calls for service went unanswered and even passing crew didn't seem to want to deal with the illuminated call button next to their makeup-filled faces.
Disappointed, I browsed around the IFE. Each passenger in Economy gets a noise-cancelling headset, which is impressive and certainly an industry leader. There is an assortment of movies and TV shows but nowhere near Emirates' selection and I would even rank it a notch below Cathay. Not long after take-off, the airshow hung and we could no longer track the flight path. As I browsed the online news feature, the system hung, and it took a few call buttons and almost an hour to get it back online after a few resets.
Abu Dhabi - Munich
19 December


I slept in a hotel overnight instead of going for a red-eye into Germany. Refreshed, I went back to the antiquated terminal for my morning departure. At first, I tried the newer T3, but the security agent turned me around and directed me back to the ugly T1 for immigration.
I was lucky to board from here today and not at a bus gate. The gates circle around a central spiral sort of artwork. Part of the attraction of flying Etihad was the A340, the uneconomical 4-engined plane that other airlines were trying to get rid of. With a 2-4-2 configuration, getting out from the window to the bathroom would be far easier than a 777 or the A380.
With my window seat, I did some plane spotting of almost all Etihad planes.
Abu Dhabi does look like a wonderful tropical paradise.
On both flights, there was no hand cream or moisturizer. There were also no shaving kits or cups for water to brush your teeth.
Apart from bad service, I enjoyed the views.
Now for more positive aspects of Etihad. You get a good neck pillow, noise-cancelling headsets, and there was no utility box under the seat in front of me.
Munich's airport is quite nice, but Etihad, unfortunately, uses the uglier and older terminal. Here are some photos of the nicer building.
Munich - Abu Dhabi
27 December


The week in Germany flew by, and on a cool morning, I headed back to the airport for the long journey home. I was not expecting such a huge line to get through the 1 immigration counter for non-EU passports open this morning. We couldn't even get past the automated security gate with such a huge backlog of people. Interestingly, some people who scanned their boarding passes but could not squeeze in were still able to open the gate by scanning the same boarding pass again.
It was a bit chilly this morning, so the pilot decided to de-ice before we take off. We taxied to a spot near the take-off position and the sprayers arrived shortly.
Bye, Germany!
Snacks and a first round of drinks were served. I asked for a tea, but was told it could only be offered after the meal service. So much for a premium service carrier. I wonder whether they were trained to give these types of non-responses?
Well, the aerials were nice though.
Lunch is served, and so was my hot tea. Service in general was consistently slow. The carts slowly creeped through the cabin, and took even longer to return to collect the trays.
I was quite impressed with Turkey when I visited a few years ago. The rugged terrain was very nice.
We landed at a bus gate (no surprise) and I had quite some time to kill before my connection to Hong Kong. I ventured into T1, breezed through security (laptop didn't need to come out), and headed to T3 to see if it was just as bad a hell hole.
This is more like it!