2016 Flying & Plane Spotting Showcase Part 1

Hong Kong - Kuala Lumpur
17 Jan

Every time I see an A380, I eagerly anticipate a price war for the cattle class seats. With oil being so cheap, it is such a bargain to fly to Europe now.
Hong Kong is a great place for plane spotting.
There are a few heritage and cultural exhibits scattered around the terminal as well.
Every time I fly out, I see more progress on the bridge to Macau. It is indeed a huge civil engineering project, and hopefully it can survive a severe typhoon.
Cathay doesn't have many A340 birds left, and it was a surprise to fly on one today. I prefer this type and also the A330 as the window is not so deep in. I only need to climb over one more person to get out.
I didn't expect much for food, but at least it had fruits, carbs, meat, and a bun.
Kuala Lumpur - Hong Kong
29 Jan

Getting a meagre few ringgits in tax refund is not easy. First, show the wares are the sparsely-populated GST verification area at the far side of the arrivals area (not departures because they don't want you to find it), then present the paperwork air-side to a counter for cash back.
However, plane spotting is decent at this airport. These B747 are parked here and incurring charges as the airport tries to find the owners to pay up.
There were a couple of surprise 787 visitors today.
Meanwhile, I wonder when can MAS get rid of their A380s. No buyers yet.
Biman's widebodies are not commonly seen in the region.
While the airport is not so busy, spotting is fairly decent with many interesting birds.
Today, I would fly this widebody.
Flying in the tropics is always nice with so many big, tall, and fluffy clouds.
Food is never a highlight in Economy Class. This includes premium carriers such as Cathay. Where are the vegetables in my dinner?
Hong Kong - Helsinki
8 Feb


Oops. I did it again. Chinese New Year is getting increasingly painful as millions of others compete with you for the same seats to regional destinations. Europe continues to be cheap so instead of paying a fortune to go to Japan, I opted for a bargain trip to Europe instead. This time, unlike my Christmas trip to Germany, I went for a more expensive fare in order to save flight time. Finnair claims it flies the shortest route to Europe, and they were right for this trip to Poland.
The check-in agent noticed I booked this trip at the last minute and questioned this and that before capitulating and sending my luggage away. The entire Finnair cabin crew serving us consisted of Hong Kongers who spoke accented English and the announcements did not come in Finnish. Eye shades were not available but ear plugs were given upon request, so I was able to nap on and off for the flight.
Helsinki's airport is small and cozy. Transferring here wasn't too cumbersome and very manageable. I was a bit tired from the red-eye and it didn't help when the next flight to Warsaw was delayed.
Winter is not a great time to visit Europe unless I was going for the northern lights or ice tours in Lapland. The sunrise was still a while away.
I walked around the shops to pass the time. But I had no interest in trying exotic game.
The restaurants have many different unique design elements and did not incorporate the typical industrial table and chair setup.
Finnair didn't seem so great. I didn't pay extra to get extra service, but a faster route into Europe. They flew the A330, which I liked for the 2-4-2 seating configuration.
Helsinki - Warsaw
8 Feb


I don't recall having been on an Embraer jet before. The leg room was surprisingly good and the seats were spacious, although the windows were spaced out very widely.
We boarded just as the sun tried to make its mark beyond the cloud cover.
This flight is operated by an affiliate of Finnair, although the jet was painted in the official colours. Complimentary drinks were served for this <2 hour flight and food was available for purchase.
The plane actually felt a bit spacious. Perhaps it was because the seating is configured 2-2.
The flight passed by uneventfully again and we landed a bit late in Warsaw. I wanted to spot lots of LOT planes and my wish was granted.
It was delightful to hop onto a new airport train and ride for only 20 minutes into the city centre at the cost of about 1 euro. Take that, Heathrow Express!
Warsaw - Helsinki
14 Feb


I return to Chopin airport by the same rail line. Sunday frequencies are 3 trains an hour on SKM trains, although there is also another operator that runs once hourly service as well.
It was an uneventful journey into the airport's underground station, followed by a long walk and 2 escalators up to the departures hall. There were 2 check-in counters open for Finnair and I was processed efficiently. The agent added a short connection tag to my bag without me asking.
It was only 6:30pm so I had some time to kill for my 8pm flight. I toured around the airport, which looked like a new facility. Behind it around the bend is another section of check-in counters that look a bit older but still a decent facility. The shops were deserted and I noticed the chocolate bars and drinks are significantly more expensive than out in the city. Good that I had my hotel bottle of water with me.
Since I was flying to Finland today, I only needed to go through security check. I browsed around the duty-free shop for some last minute souvenirs but though the food probably won't survive the long journey back to Asia. I didn't need booze either.
By now it is 7pm and the boarding pass noted we would start at 7:15. During my tour of the airport, I had already noticed the incoming aircraft would arrive at 7:25. A bit worried whether the plane can turn around within 35 minutes, I wondered whether my 55 minute connection in Helsinki would be enough? The free wifi worked well and just shy of 7:25pm, the Embraer jet pulled into the gate.
Arrivals and departures are shared areas in this airport, so I could observe the arriving passengers enter and head towards the baggage exit downstairs. It was only a 20 minute wait before we started to board.
Boarding was quick and it was nowhere near a full load tonight. I checked in online earlier to get as close to the door as possible in case I needed to dash upon arrival. The crew announced boarding is complete on the intercom and we pushed back just a few minutes past 8pm. Impressive.
2 flight attendants served us today - 1 for Business Class, and the other for the rest of us out back. It seemed a bit thin in case we get a full Economy cabin, but since only drinks are served and meals need to be purchased, I suppose it wouldn't take that long to serve us on this 1.5 hour flight.
Welcome back to a snowy Helsinki.
Helsinki - Hong Kong
14 Feb


Helsinki's airport is quite nice to use, but there are not enough seats at each gate to accomodate a long-haul load. I settled a gate away, where there are USB chargers on the seats and waited. Boarding was delayed twice - first to 11:15pm, then next to 11:30pm, and the boarding lines snaked around the small gate area on a seemingly full loading. Finnair keeps advertising they are the shorter way from Asia to Europe. Perhaps Aeroflot can lay the same claim as well?
Boarding commenced minutes after the second retiming and the lines went by quickly. I overheard an FA say J was overbooked today and some people had to be reaccomodated in Y. Poor lads.
My impression of Finnair is a more luxurious low-cost carrier. It is not worth a significant premium over the Middle Eastern carriers, but if you are heading to Eastern Europe, the travel time is indeed far quicker going through Helsinki than Doha, Dubai, Abu Dhabi, or Istanbul, and the airport is quite decent and quick to transit.
Hong Kong - Bangkok
18 Feb


Barely past my jet lag, I was on the plane again for a long weekend in Bangkok. I was hit with a 2.5 hour delay, and got it minimized by standing by for another flight instead. This gave me time for dinner at the credit card lounge.
A Cambodian government jet was boarding as I waited for my revised flight.
Bangkok - Hong Kong
21 Feb


Bangkok's airport looks nice but the experience is nowhere near award-winning standards.
There are very few moving walkways so it is a long walk to the more remote gates.
Bangkok gets a lot more interesting airlines than Hong Kong, although spotting here is far worse with windows covered up and not easily reachable since the gates are a floor below the main walkways. I had to make the best of what I've got.
Cathay is stingy with releasing award seats, so I had to capitulate and fly Premium Economy today. My only other PEY experience was with Qantas many years ago thanks to an unexpected online check-in upgrade. The difference wasn't so much using Avios compared to Asia Miles - only 2250 more.
Without much luck at the terminal, my spotting got more interesting during taxi.
Hi Air Koryo!
Service-wise, we got J class headsets but a Y meal. On a long-haul. PEY would be a weird hybrid.
Hong Kong - Kunming
2 April


Ching Ming and Easter are major holidays in Hong Kong since it is easy to connect the two long weekends. I couldn't do this, so could only fly a short trip on the Ching Ming long weekend.
While Cathay Pacific and Dragonair are being branded as a seemless single airline group, in reality they operate separately. I ventured to the Marco Polo counters in row B, only to be told they only process Cathay flights and I needed to go across the terminal to the other end for the Dragonair counters.
To add salt to the wound, narrowbodies are often sent to the North Satellite Terminal, inconveniently connected by crowded shuttle buses when a short tunnel could have easily done the job. Thumbs down to the Airport Authority for pushing crush loads on buses to this building.
Dragonair will be gradually rebranded to "integrate" with Cathay. The famous dragon will become much smaller and almost invisible on the livery. So from now on, I need to take more photos of their planes.
The new A320 has the regional Cathay seats and in-flight wifi as there are no PTVs.
Being at the front row in Economy, leg room was quite good and the extra window fueled a misconception I'm in Business Class. We roared into the fog on-time, and turned south then west above the South China Sea.
As we headed for take-off, I noticed this Orient Thai 747 under repair. Was this the plane that went out of service for almost a month and wrecked havoc on thousands of passengers?
Lunch is served. The beef rice was a little spicy since too much pepper was used. But I was surprised at the premium ice-cream. For a 2-hour flight, I was satisfied with the hot meal.
Soon, we started to line up for arrival into Kunming. There were a lot of fluffy clouds as we neared and we hit pockets of bumpiness. The crew steered around some of the more intimidating clouds, and the final approach was quite turbulent although the skies were quite good.
Kunming's new international airport opened a few years ago, and the vastness was obvious as we taxied in. However, it seemed this is a land of narrowbodies, and there weren't too many parked here at this time of the day. Seated up front, I went through immigration very quickly and exited within 20 minutes of landing.
The airport buses were just outside international arrivals, but I waited 20 minutes before my departure to the railway station took off. As the driver pulled away, I noticed the premium buses at the domestic end which went to my hotel. But I would later find out they didn't operate more frequently anyway. Hope the metro link can extend into the city centre soon.
Kunming - Hong Kong
5 April


After having tried the cheaper commuter 919 service from the airport into town, I opted for the more expensive "luxury" bus that departed directly from my hotel near the train station. 25 yuan was still very affordable and I saved 10 minutes.
I arrived at the airport with 50 minutes to go before check-in ends. The terminal is huge and looked imposing on the highway in. The bus dropped me off at the departures level. All entrants were held just inside the terminal doors, where security personnel sample swabbed luggage before releasing the group into the check-in area. The terrorist threat is just as real in China as in the West.
Dragonair's check-in counters are at one end of the terminal. There were several tour groups gathering, but no line for the check-in agent. My luggage was tagged and boarding pass printed efficiently, and the agent asked me to wait for the results as the bag went in for a scan. Very soon, I was done and ready to explore the massive terminal.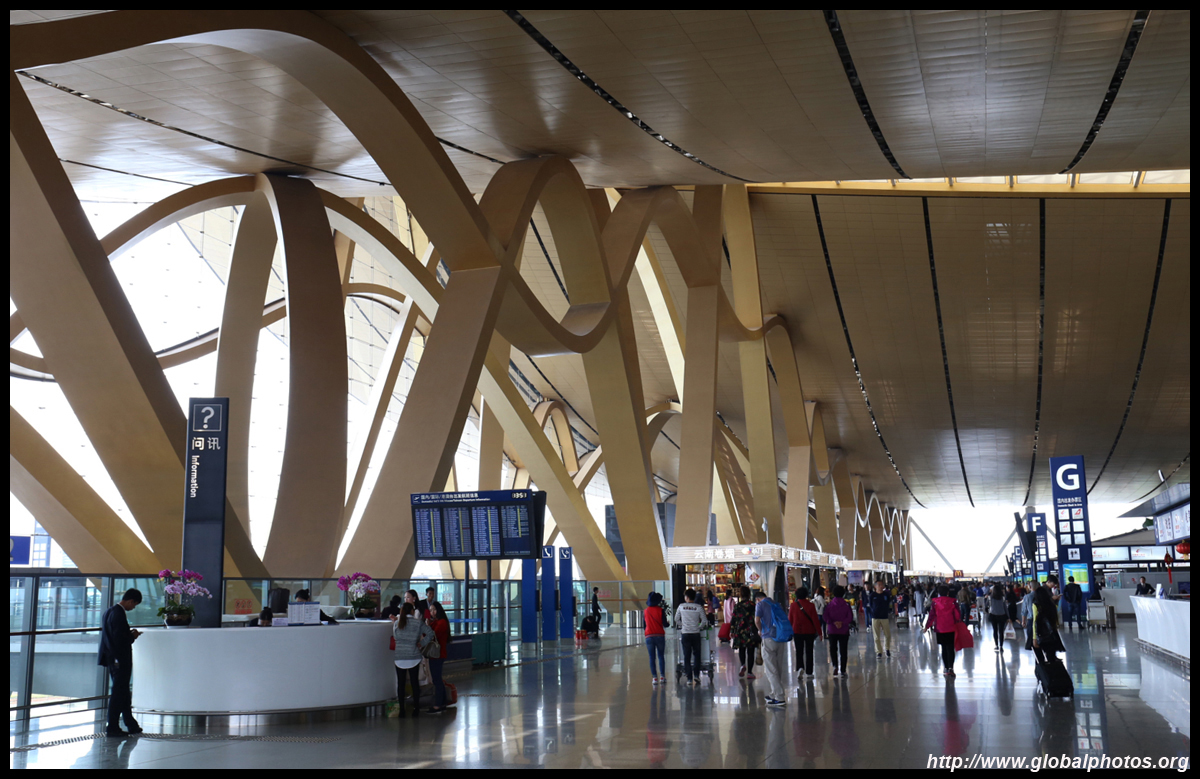 Graceful arches line the terminal's structure points. The terminal was quite busy but seemed it was mostly due to domestic departures. The restaurants were busy as well and prices were significantly inflated from in the city. But then, they are cheap by Western standards. After enjoying a chicken rice noodle for 28 yuan, I headed into immigration, where there was a longer wait, but managed to clear security within 20 minutes.
The international section of the terminal became fairly quiet with lots of empty gates. As I had expected, this is still mostly a domestic airport.
I had pre-set a SMS notification about the incoming flight, which was slightly delayed, so our delayed boarding came at no surprise and I spent more time exploring the terminal's amenities. There were few planes to spot though.
To combat the liquids ban, Chinese travelers typically use plastic bottles and fill up here before flight.
The boarding queues have changed so lowly Green Marco Polo members don't get priority boarding.
I settled into my front-row seat in Economy once again and waited ... and waited ... saw the rain come and pass, until the flight deck came on the PA to announce we would be slightly late due to refueling.
I was surprised it rained considering it was bright all morning.
Today's plane is a widebody A330 with PTVs and the flight home would be short at under 2 hours. A hot meal was served shortly after the seat belt signs came off. Since I had lunch already at the airport, I opted for a simple dish of fish and potatoes. Strange there wasn't rice or pasta. Like the incoming flight, premium ice-cream was also served.
With rebranding imminent, I turned my eyes onto the Dragonair memorabilia in the seat pocket in front of me.
Who wants to buy an airplane trolley from the duty-free catalogue?
Hong Kong - Singapore
17 April


I haven't flown on SQ for years. Hong Kong-Singapore is a very competitive route with a 5th freedom alternative as well. Prices have dropped to rock bottom as LCCs edge in so SQ won my patronage on pricing. On today's flight, the PTV screens were reasonably-sized although the interface looked a bit ancient. The entertainment selection was great though but there were no earphones in the seat. Strangely, there was a pillow and blanket though. Disposable ones were provided upon request.
On a morning flight, sitting on the right side would be optimal for taking photos. Luckily, the skies soon cleared after that as we headed southwest towards Vietnam.
Breakfast was served slowly. The presentation and quality were better than Cathay, with a fruit appetizer, dim sum main for the Chinese option (rice flour roll, siu mai, and vegetables), custard for dessert, and bread roll accompanied by metal cutlery. But a moist serviette was missing.
We made a long approach to land and looped back at Indonesia to come in from the south. I captured a few shots of the airport but the skyline was a bit far to see clearly.
Singapore - Hong Kong
29 April


Terminal 3 is refreshingly different from the other 2 terminals. It is big, airy, bright, and has an interesting ceiling design.
What is this piece of ancient history doing here?
Plane spotting is difficult here since the waiting lounges are enclosed past the security X-rays. It took some time to find a few windows in the public area.
Once inside the waiting lounge, you can't get out. At least there were enough seats. I have always disliked this type of design. If there are delays, you need to re-clear security even if you just go back out for the bathroom, if that is even possible.
Today's aircraft is much nicer with a long-haul configuration as the flight would continue to San Francisco after Hong Kong. The seats were more comfortable and the IFE much more usable. Disposable headphones were already placed at each seat this time.