2016 Flying & Plane Spotting Showcase Part 2

Hong Kong - Jakarta
1 July

Cathay Pacific and Dragonair are gradually repainting their planes as part of their livery rebranding. That means I have to photogaph the old liveries as much as possible before they become a part of history. I'm not a big fan of their new colours. The old red, green, and white contrasted each other very well. Why mess with something that works?
Jakarta and Manila are good routes to bet on an upgrade, thanks to domestic helper traffic that fills up the planes. I was upgraded to Premium Economy today due to an overbooked Economy class. While I don't see a business case to buy a ticket here on a short flight, I suppose the airline folks want to safeguard their premium Business Class cabin with this hybrid. The 2-4-2 configuration here is only 1 seat less than cattle class out back.
While I was hoping for a window seat to capture some aerial photos, it was not possible with this upgrade. Nevertheless, I got some much-needed rest in this more comfortable seat so I could be prepared for a long day in Jakarta.
I didn't have much expectations for Jakarta's airport. I couldn't find the immigration queue for foreigners, signage was horrible, and the baggage carousel was too small for a widebody flight.
With over 6 hours to go before my next domestic flight, I headed to Garuda's premium counter and successfully checked my bag and got my boarding pass. The staff were cheerful but I didn't get an upgrade from Economy class today. My friend had gotten a Business Class ticket and the agent didn't mind checking me in there as well.
Jakarta - Yogyakarta
1 July


Jakarta's airport is connected to the city by a dedicated highway. During regular times, it can take hours to get into the city. Luckily, the city emptied out with an imminent long weekend on the horizon. Too bad I couldn't try the new terminal - it would open weeks after my visit.
Similar to airports in less secure countries, I had to go through a first level of security screening before being able to enter the check-in area.
The check-in area is functional. It didn't seem like an old and ugly terminal here, unlike at arrivals.
Plane spotting is nearly impossible here since the gates are in pods away from the main terminal area, which are not accessible due to the official security check for those gates only.
So instead, browse around the shops and restaurants. Sunset had not arrived yet so Muslims would still need to fast.
Once sunset had arrived, food and drink boxes were distributed to break the fast.
The gate's dedicated holding area is after the official security check. But there were not enough seats for everyone. The toilets are downstairs so at least you are not too trapped in here. The security guard initially didn't let me in too far in advance, probably knowing I would be bored in there.
I dread bus gates, but tonight's experience was not so bad with the bus not packed to the brim and rather pleasant weather.
My first flight on Garuda was a pleasant surprise. The crew were friendly, professional, and a food box was given to us despite the short flight. I got the exit row for free and stretched very well while watching TV on my dedicated screen. My prior perceptions were heavily influenced by the EU ban that was only partially lifted for Indonesian carriers. This was the lesser evil compared to more incident-prone local airlines such as Lion Air.
Welcome to Yogyakarta. No gates. Walk outside to the terminal.
Yogyakarta - Denpasar
4 July


Yogyakarta's airport is also a blast of the past. Don't come here too early before your flight. You'll quickly run out of things to do.
The domestic lounge is an uninspiring area. All passengers board from the tarmac. There are no jet bridges here.
However, there are some windows where there can be a bit of plane spotting to appreciate Indonesia's many, many airlines.
Like a library, borrow a newspaper and remember to return it to the rack.
False advertising is rampant around the world. I have never seen this brand in Hong Kong. Maybe the city name is part of its name and not really where it is supposed to be from.
Today, I try Garuda again for a short domestic flight to Bali. With beautiful blue skies, Merapi was fully visible and we flew very near it!
Living in Asia, we have the expectation of a meal even on short hops. We got another box meal today.
The seat was comfortable enough and not having a personal TV was OK when the scenery was so good.
We landed on the over-touristed resort of Bali, which was far more busy and beautified than the more "authentic" Indonesia.
Denpasar - Hong Kong
5 July

Bali's new international terminal is world-class, a marked improvement from my last visit several years ago.
There is a rising number of mainland Chinese tourists visiting Bali, but I was still surprised a bottle of booze needs to be wrapped in a flag to get someone's attention.
Bali is probably the least Indonesian part of Indonesia. Looking at this photo, it could be anywhere in the West.
Yet in a predominantely Muslim country, would this store be appropriate?
Great to be here during dry season. There were lots of nice views as we departed and headed north. This elevated causeway across the water has helped alleviate traffic and improve travel times significantly in the southern part of the island.
Short driving distances can still take a long time due to narrow and winding roads. It would have taken hours to get to this mountain from the airport.
First World problems. For a 5 hour flight, I wished a premium carrier's meal wouldn't be so basic. There were barely any vegetables and way too much rice. I got much better fare on SQ for a shorter flight a few months earlier.
Hong Kong - Seoul Incheon
10 July

A few days later, I was back at the airport. The skies were grey this morning, but it was red hot for spotting. Rebranding has edged closer with a few more planes in the new liveries.
Settled in my window seat, I was initially happy to see us push back 1 minute ahead of schedule. But we eventually were grounded for an hour and a half due to a technical issue which forced us to return to the gate. It was my first time experiencing such a tarmac return.
Lucky I had secured a good spacious seat at the front of cattle class, so was still very comfortable during the delay. After we took off, we were served a late breakfast. The options were omelette or congee. I opted for a congee, which had chicken and mushroom bits in it. It tasted good but the portion was fairly small so even with the yogurt, fruits, and bread, I was still hungry after.
With the delay behind me, I looked out to enjoy the views. These short flights are typically uneventful anyway.
There was also plenty in the IFE to keep me entertained.
Soon, Dragonair as a brand will disappear.
I then turned to the written entertainment options. The Pearl River Delta consists of several large cities, anchored by Hong Kong, Shenzhen, and Guangzhou. This graphic showcases the development quite nicely.
But then, this was a redemption booking in the optimal dry season. Happy that it was a cheap free flight! That cleared out my expiring Asia Miles nicely!
Seoul Incheon - Hong Kong
22 July

I have used Incheon many times over the years. The key difference nowadays is the sheer number of shoppers from China that have swarmed Korea. I caught these self-serve tax refund machines for the first time in the departures hall. Luckily, the tax on my personal purchases was deducted at the shop already, so I didn't need to line up here.
Duty-free could also be picked up once past immigration at dedicated counters. You pay in the duty-free shop in the city first, then use the receipt to line up at that shop's counter to get the goods for hand-carry.
Once these shopping formalities were over, the terminal was otherwise quiet.
Plane spotting is decent here, although nothing compared to Hong Kong or Bangkok.
I have gotten more and more disappointed with Cathay's Economy Class catering. Since I had a bite in the terminal already, I opted out of the main dish and settled for appetizer and cookie only.
I have always wanted to take aerial photos of Hong Kong on arrival, but never really got lucky with different flight paths and bad weather. Today was exceptionally clear and I finally got what I wanted.
Beautiful all the way to touchdown!
Hong Kong - Sydney
20 August

With a red-eye to Sydney, I opted to eat dinner at the airport and perhaps dine light on board the plane. After all, food on the ground should taste better, right? I haven't been to The Pier for a while, not realizing it had been extensively renovated and now looked completely different than Cathay's other lounges. The lounge was very big with several sections of seating. I went all the way to the end, where an attendant led me to a shower room for a refresh before the long overnight flight.
Glad that they provide a more environmental solution in this lounge.
After the comfortable shower, I took my time to explore the fairly empty lounge. Perhaps the economy is really doing bad now. Not long ago, I visited a packed The Wing for breakfast!
The space-age chairs at The Cabin have been replaced with this more traditional design. They were spacious and offered a decent amount of privacy. This section was away from the dining area so was actually quiet.
The dining area looked very cozy with different types of tables and chairs. The food selection was so-so and included their famous wonton noodle soup.
After a light dinner, I happily walked across the terminal to my boarding flight.
Cathay Delight remains my favourite drink in the sky.
Morning came and the weather looked great. I sat on the right side this time, having sat on the left many times before to capture skyline photos on the descent. Sydney sprawled to the west as well and the scenery was worth a look.
Sydney - Melbourne
30 August


As automation invades and human employees get too costly, passengers are increasingly inconvenienced. To check in, you first go to a kiosk, which would decide to hang up on you, and then you need to scramble to find a human to help. The machine was supposed to spit out a boarding pass, and I would then need to drag my bags to the automated bag drop counter, where I stick the baggage tag on and send the bag towards the cargo hold. 2 lines. That's supposedly progress.
The crew don't give out headphones anymore. You pick them up as you board.
A sign pointing to the heritage museum got my interest at the far corner of the gates. I headed upstairs, where there was a deserted gallery featuring many historic artifacts from Qantas' earlier days.
So far, the service on the ground has been disappointing, so I was surprised when the cabin looked new with working IFE despite the short flight.
I focused my attention on the window to cheer me up instead.
Qantas' footprint shrank as a result of its partnership with Emirates. Their Europe network was decimated, and they re-focused on Asia instead.
Melbourne - Christchurch
3 September

Check-in formalities were reasonably quick this time with manned counters. What irked me was the disappearance of my flight on all the displays. At first I thought my flight was cancelled, but I got my boarding pass so it was quite odd.
I've seen signs talking about H1N1 and MERS, but this is my first encounter with a Zika sign.
The seats were comfortable and there were empty seats so we could all stretch out a bit.
On these low-cost carriers, I like browsing their menus to see how crazy they charge. Virgin Australia doesn't gouge its customers too badly. Anyone like wine with their chips?
The weather over New Zealand was markedly better than Melbourne, and the West Coast's snow-capped mountains were in full view during the descent.
Virgin Australia brought me to my destination safe and on-time. That's all I wanted. I never expect budget carriers to provide exemplary service. The crew were friendly and did their work properly. I paid a decent fare for the flight, and would try them again if the price is right.
Queenstown - Auckland
3 September


With Queenstown's flight paths being so scenic, I gave up driving back to Christchurch through Lake Tekapo and booked a domestic flight from Queenstown to Auckland. The check-in line moved slowly with only 3 counters open so I had time to browse around for interesting signage.
Views from the airport were quite good already. This is a taste of things to come.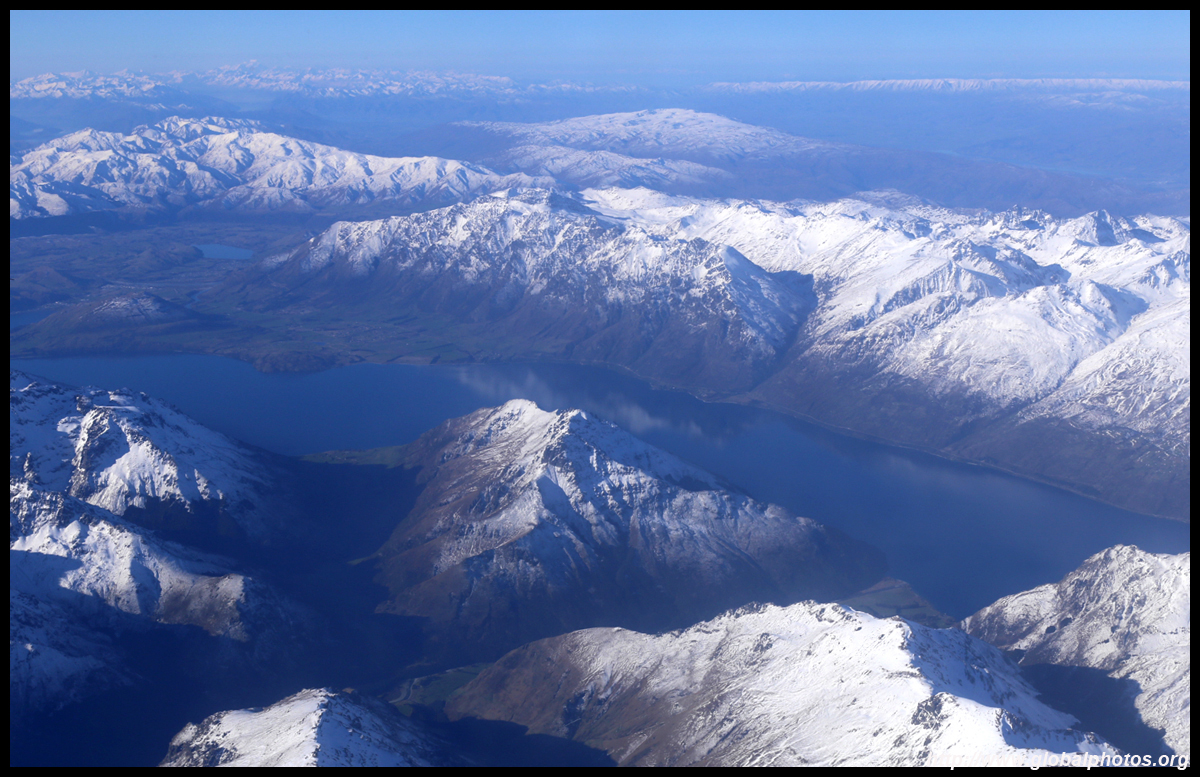 After a series of turns, we got the right heading and my aerial tour of the South Island began. Cromwell and Lake Dunstan lies in the distance.
Wanaka came up quickly.
Pukaki somewhere behind the mountains?
The west coast had plenty of rainforests edged near the glaciers. I took a helicopter ride somewhere along here to spot Mount Cook. I couldn't find it on the plane.
After all that time gazing out the window, I turned my attention to the paperwork on board.
Vietnamese noiodles in the air looks quite unique.
Despite the dirty plane, I was very happy to have flown today with such clear skies and beautiful scenery all the way to Auckland.
Auckland - Melbourne
11 September


Emirates has an incredible 3 flights leaving Auckland at around the same time. These are all 5th freedoms heading to Australia - Brisbane, Sydney, and Melbourne, before continuing to Dubai. Their check-in area is massive which keeps the lines moving. No automation here like the other regional carriers.
Auckland is not a large airport and I didn't see many big jets when I arrived yesterday, so the prospect of 3 flights to Dubai within an hour of each other was a bit odd for this fairly small city.
After fairly quick immigration and security formalities, I emerged air-side to find some nicely-decorated restaurants and a new extension for international gates.
On the other side of the terminal are 2 Emirates A380s, which is an amazing sight with so many turboprops and narrowbodies taking off and landing here.
Big plane, small airport.
Boarding was separated into stages and things happened efficiently, presumably due to a lighter load. It started at about 10 minutes to 5 and by 5:15, we were all seated and ready to go.
So why did I not fly the competition? Emirates' fare includes checked baggage, seat selection, IFE, a well-stocked bathroom, and a meal. The price is right because it's a 5th freedom on a huge plane with so many seats.
Add to that I got a nice view of the CBD on final approach.
That's why all the other traditional carriers ought to be worried.
Melbourne - Hong Kong
12 September

Skybus is an expensive way to get to the airport but there is no train alternative. On the bright side, it is possible to book a pick-up from one of the CBD hotels in a smaller bus to save a taxi ride or hauling luggage onto trams.
Melbourne's airport is nothing to boast about. It is aging fast and quite boringly functional.
Here are some more automated check-in and bag drop machines so you don't need to interact with humans anymore.
The Cathay lounge was nothing to boast about. It looks old, and they served cup noodles. I thought this was a mainland China sort of thing, but this is not the place for a snack before flying.
At least the teas were nice!
Unimpressed, I looked forward to a good flight with good food.
Not the typical French ice-cream on their other flights, but very delicious nevertheless!
After lunch, the sun slowly set and we left Australian territory for good.
It's a long flight but feels short in Business Class. Later on, I got hungry and ordered a delicious noodle for a snack!
It is a very comfortable seat for this daytime flight. If red-eye, it needs a mattress padding to be perfect.
Hong Kong - Tokyo
16 December


I had enough miles in my Star Alliance account to redeem a one-way transpacific to Canada, but there was little availabilty out of Hong Kong unless I change somewhere in China. I opted for Haneda, which had seats out back where there are only 2 seats by the window instead of 3. So the next step was to buy a positioning flight to et to Tokyo.
Today's flight is an evening service and I will arrive just after 11pm.
We were departing from the new north satellite terminal, but I didn't realize it was a bus gate. Apparently, this spot where the plane is parked is at the terminal but there is no airbridge.
So we got on the bus, looped around the terminal building, and parked just off the terminal to board by stairs.
Hong Kong Express takes the extra step to ban all outside food and drinks from being consumed on board, and they offer an expensive hot meal, albeit slightly cheaper if pre-ordered online.
I like these slimmer seats with the magazine rack by the headrest so I get a little extra room for my legs.
But it is not really a pure no-frills carrier. They do have a duty-free catalogue at the seat.
Tokyo Haneda - Toronto
18 December

What's so surprising with a long delay on an Air Canada flight? Don't have expectations and you'll be fine. They have a good excuse though - there was a nasty snowstorm in Toronto the day before.
Haneda is a great airport to be enduring a delay though. THere is an observation deck and lots of restaurants priced just like in the city.
You can also stock up on sex toys.
There was a large number of gates in the deserted international section, I was surprised they couldn't find a proper gate for my flight. So to make a delay worse, we need to board buses to get to the plane.
I settled towards the back and when the announcement came that we were done, I was surrounded by empty rows of seats. Some passengers rushed in right away to claim the entire row of 4 seats for the long transpacific journey.
So what do you expect on board? Average catering, insufficient IFE selection, and stern crew. They ran out of choice for both meals by the time they reached me.
The moving map is quite nice though.
Pearson airport is under new management, and they're making changes to return to the right century. The most noticeable change for the arriving guest is a free baggage cart!